Sexy, not spooky, Cotton Candi and Shanice Richards are extra large SSBBWs who are extra plump and extra delicious! These two luxuriously Halloween hotties, have heavy hooters you'll want to hold onto. They're on their way out for a wild slutty night, with their kitty cat outfit and a sweet school girl outfit. Miss Candi seems to think that she's got the more alluring choice in her schoolgirl outfit, but Shanice begs to disagree! We think they're both stupidly sexy, with incredible big boobs and a SSBBW status. They're jiggling all over, showing off those super thick bodies and ready to tempt others for Halloween in this scene for Plumper Pass!
When their friend drops by for what's sure to be a wild night, both Cotton Candi and Shanice Richards ask for his opinions. The fight gets cattier and cattier as they continue to argue. They begin to bicker, even arguing over who has nicer boobs! Ladies, ladies, they're ALL huge! Their friend assures them that they both have incredible tits, and both of their outfits are incredibly sexy! This petty little competition quickly turns into something far nastier with the arrival of their horny friend.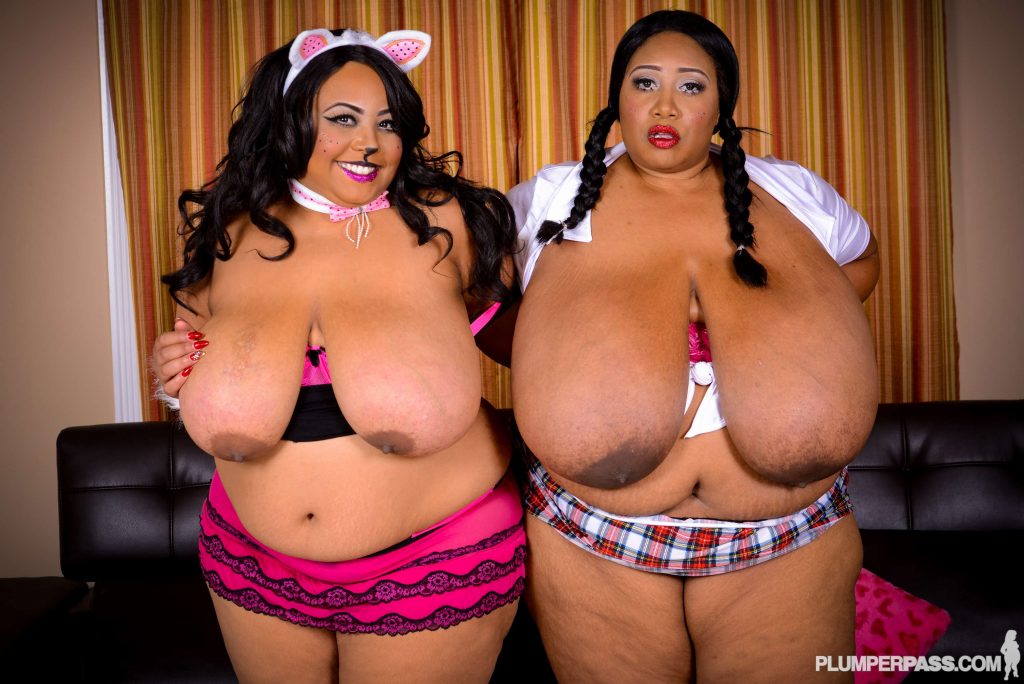 Two SSBBW Babes in a Hardcore Fuck Competition
Even as their friend assures them that they're BOTH sexy SSBBW beauties, that isn't enough for them. The pair gets more and more petty, quickly. Cotton Candi starts talking shit as she sits down next to their friend on the couch. "School girls give much better blowjobs!" Shanice will not take this sitting down, but she will most certainly take it on her knees!
Shanice Richards slowly becomes a nicer kitty, as the competition starts turning into a blowjob competition! The two ladies begin taking turns on his cock, letting the competition dissipate slowly into a lack of inhibitions. A competitive spirit still remains, as they take their turns on the huge cock in front of them, keeping up lubed up with spit, and working like a team built to satisfy.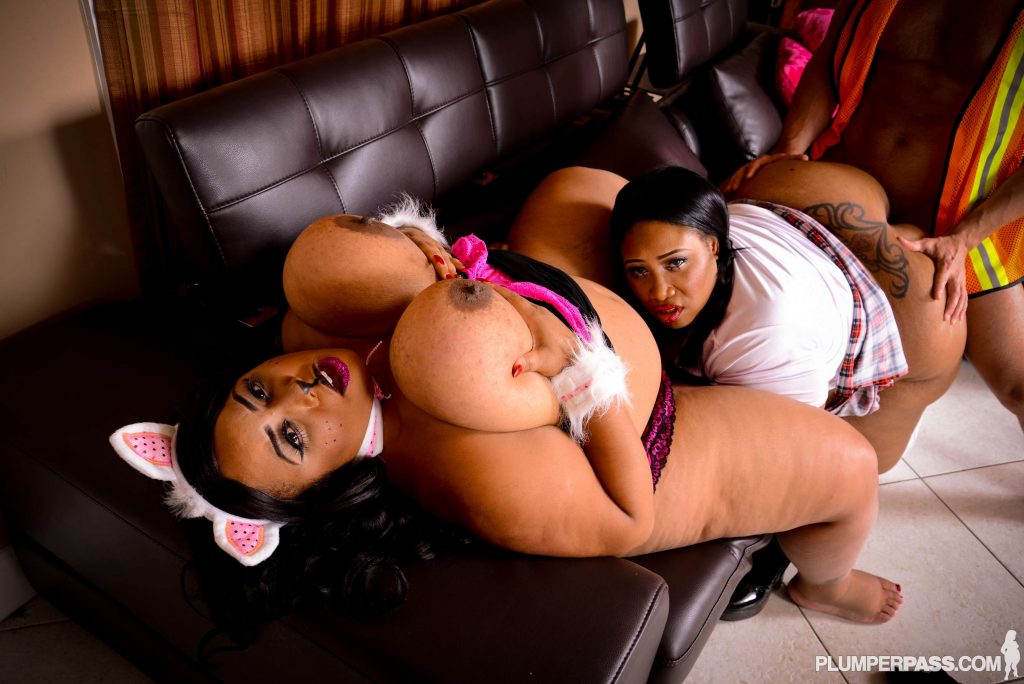 Cotton Candi and Shanice Richards Big Tits BBW Dream Team
As soon as Cotton Candi and Shanice have turned the passionate fires into a wild romp. Their clothes are stripped down, their gigantic tits are hanging free, and they're ready to get freaky with each other, turning this into a fully satisfying threesome for all three! Cotton Candi begins by licking Shanice Richards' wanting pussy as she gets pounded from behind. Her fat ass is spanked, she moans, and she enjoys but she never stops indulging!
This turns into a huge titty bouncing, filthy, raunchy scene! Both of these SSBBW ebony beauties wail with pleasure, enjoying every thrust into their tight, fat pussies while he takes turns pounding them, and they take turns on each other. From belly play to riding, these two big beauties get their pussies filled to perfection, and show off their luscious, fat curves
You can watch Shanice Richards and Cotton Candi fuck and jiggle now, in this scene for Plumper Pass!