There are few things I find so breathtakingly beautiful, intensely erotic and sublimely sexy as a girl with a cock in her mouth – ruby red lips stretched tight around the swollen shaft as she bobs her head up & down, her piercing eyes gazing upward, fixed sensually upon your own…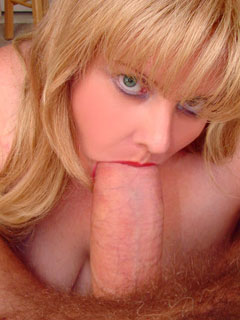 …such is never the case moreso than when it's stunning plumper slut Harley giving the blowjob in question. Harley's no stranger to sucking cock either, as we've seen her here once before administering expert oral sex with a most amazing marathon 30-minute blowjob in a veritable cock-worship video extravaganza extraordinaire.
I was pleased to see that she's up to her oral antics again in the most recent photo & video galleries I received from PlumperPass today, as seeing Harley's delicate facial features penetrated by a huge penis is always a treat. And, let's face it, what girl doesn't look especially sexy sucking cock? There's just something deliciously slutty about seeing a woman slathering over a thick slab of man-meat that summarily increases her innate sexiness a hundred-fold, demonstrating just how much she loves cock and, indeed, sex in general.
Yes, giving a blowjob is the ultimate beauty accessory for any girl, imho. As beautiful as BBW Harley is on her own, the addition of a large penis protruding from her lips as she draw the cock-head delicately across her teeth to allow its sensitive frenulum to rub over the massaging texture of the taste buds on her tongue as she licks and sucks away with abandon, her blonde hair framing the whole ultra-horny POV perspective scene in fantasy first-person detail, makes her all the more desirable as a vision of super-sexy plumper perfection.
And so, without further ado, I give you the exceptionally stunning green-eyed blonde BBW Harley in these beautiful blowjob videos from PlumperPass.com:
CLICK HERE TO VISIT HARLEY AT PLUMPERPASS.COM
(webmasters)