I find it a serious struggle sometimes to express how I feel about someone without sounding somewhat disrespectful to the public at large. For instance, if I were to describe my wife as "the blonde slut with big tits" I've no doubt that some would take offense. Vix, however, wouldn't bat an eyelid at this description, considering that she uses similar terminology when talking about herself (and, bearing in mind that I received a text message from her whilst I was out last night saying, "XXXX just PM'd to apologise for going down on me in public… He did?!", I believe this to be an apt summary of both her appearance and behaviour).
However, 2008 being the Year of the Plumper, I feel the need to be a bit more careful. There are just too many other sites out there who take the piss out of plumpers, referring to them as "fat slags" and such (and genuinely meant in the derogatory sense, judging by the whole of the context), which I feel does not afford these big, beautiful women the respect they deserve. Further, exposure to such a negative attitude toward BBWs can only serve to encourage and propagate a similar disrespectful demeanour amongst the readers of such overtly malicious tripe, and I'd hate to think I was likewise responsible for exacerbating to the problem.
It becomes especially difficult for me, though, when I'm blogging on about someone like Chessie Moore. Although I dearly love Chessie and hold her in nothing but the highest esteem, the words I choose could easily be misinterpreted to the contrary. But what do you write about a girl who, whilst taking an afternoon's stroll through the forest and enjoying the great outdoors, casually picks up a bottle and shoves it up her cunt?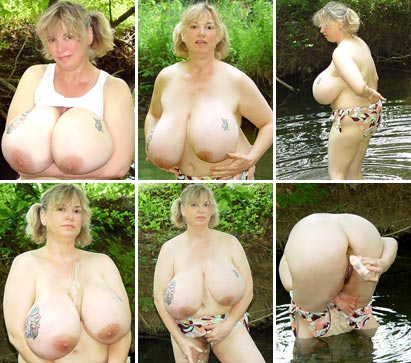 CLICK HERE FOR MORE OF CHESSIE MOORE AT PLUMPERPASS.COM
Well, personally, I'd say that she epitomises the definition of my dream girl! Yes, Chessie is a slut – pure & simple – and that's why I love her (I'll bet you probably thought it was because she's a big tit blonde, didn't you? although I must admit that's a nice bonus).
Honestly, there's nothing anyone could tell me about Chessie that would squelch my desire for her. Even the now ancient history news that early on in her porn career she'd had carnal relations with canine companions only serves to enhance my view of Chessie as a hypersexual human being (the fact that one of my best friends in high-school was a farm girl with a similar predisposition, albeit in the equine direction, probably helps me to understand such animalistic inclinations). I find it especially endearing that Chessie still openly admits to and even jokes about these underground erotic episodes from her distant past, as it simply tells me that she accepts the whole of her sexuality without shame or reservation.
For me, Chessie Moore is just another one of those girls that I'd be proud to take home to mother (were I not already married, that is). Chessie's openness and honesty about herself is most refreshing, a true pioneer in a world that's just beginning to come to grips with outward expressions of diverse sexuality. She just strikes me as an ideal partner with whom to comfortably explore the full sexual spectrum within the security of a stable relationship, from watching her have a solo lady-wank to going one-on-one in a hands-free tit-fuck to inviting a friend to join in a threesome all the way to sharing her with others in a greedy-girl gangbang and beyond, ever expanding your horny horizons together.
But for all the vast array of sexually adventurous escapades possible in such a delightfully open relationship, it's still the quiet times together that you cherish the most, laying in bed reminiscing over prior masturbatory memories and coital conquests to the point that you both get so turned on you end up – *gasp* – fucking each other! :~o So, in order to conclude this lovely Chessie Moore fantasy, here she is in intimate one-on-one hardcore sex action in these videos from her very own ChessieXXX.com website: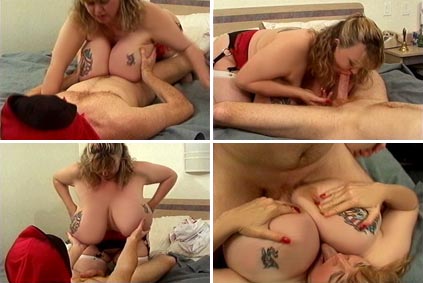 CLICK HERE FOR MORE OF CHESSIE MOORE AT CHESSIEXXX.COM