Look no further for your BBW Lesbian cravings than Jadynn Stone and Buttercream19 in this scene for Plumper Pass! These hourglass shaped BBW brunettes are finding out how much fun they can have together! They prove to be a match made in heaven! They have with beautiful bulging bodies full of lust, long dark hair, and gorgeous faces. These two are dolled up in ultra glam dresses, and cannot wait to unwrap each other. Time for these two to get a taste of each other's juices and soft skin.
This scene kind of gets right down to business. These two are coming in from a night out, having built up a lot of temptation throughout their sexy evening. Buttercream19 and Jadynn Stone express how much they want to taste each other as they come inside. They immediately walk into the bedroom. As soon as they're finally alone, they get those first tastes in. Jadynn Stone looks glam in her beige, sequined dress, and she's ready for a romp! Buttercream19 looks equally divine in her bright orange form-fitting dress. They first start with each other's big tits, as just a warm up.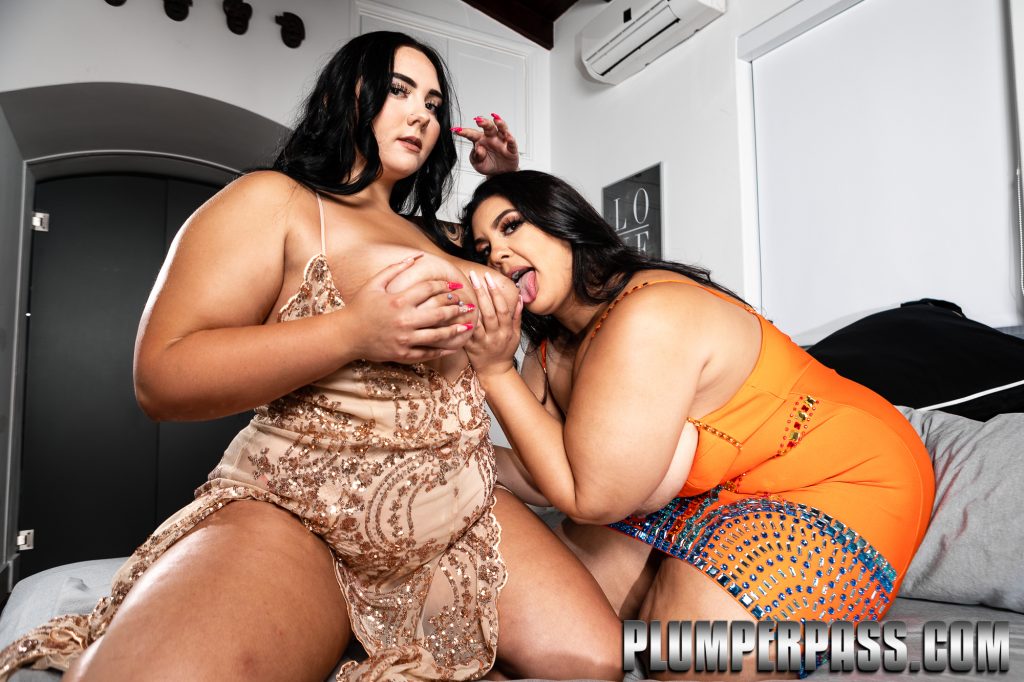 BBW Lesbian Babes Fuck After a Hot Date
Jadynn Stone immediately goes for Buttercream19's big tits. The girls are growing more and more wet, even before they pull out their big titties. These BBW Lesbian beauties both like what they see, and really start diving into each other's ample cleavage. This is just foreplay, and they're already making us feel warm down below. Both of these BBW brunette beauties play with each other's tits with passion! It's a sight to see while they continue to undress each other, running their hands over each other's curves.
Jadynn Stone slips off Buttercream19's panties from under her dress, and walks her over to the bedroom. They're both excited to play and get right back to playing with each other's tits. They both look utterly gorgeous indulging in each other's big tits, and begin to heat up. They make each other so wet, it would be a shame if the action didn't go any further. Rest assured, these ladies are excited for raw, exotic BBW Lesbian fucking.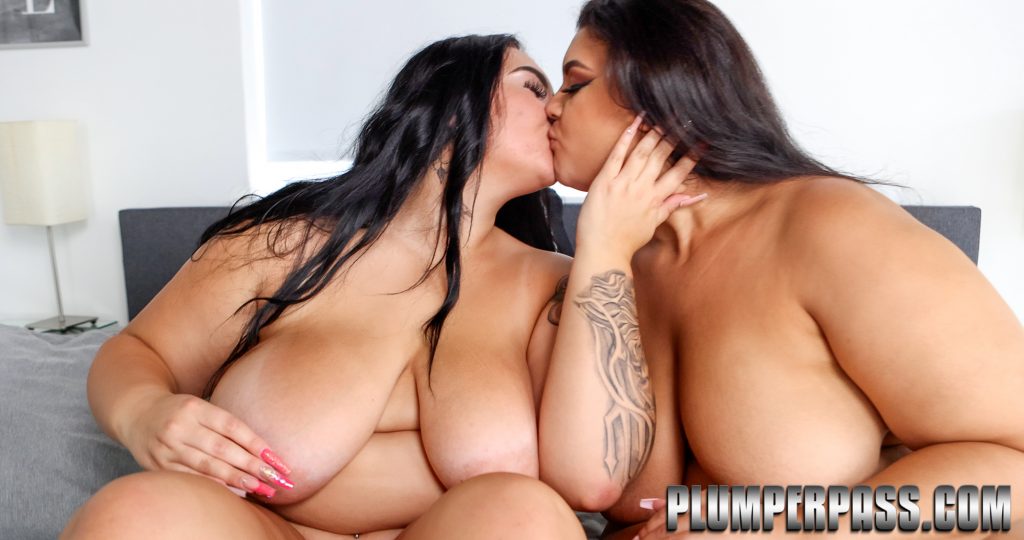 Jadynn Stone and Buttercream19 Love Each Other's Big Tits
These ladies begin to undress each other little by little, admitting to fantasizing about each other. The BBW lesbians have done a hell of a job building up anticipation. So now it's time to make good on their desires. Jadynn Stone takes charge and begins to undress Buttercream19. As soon as her dress is undone, her curves are fully revealed, with Jadynn coveting that gorgeous ass of hers. They're clearly enjoying each other, twerking and indulging in each other's bodies.
As they get undressed, they begin to masturbate together to warm up before finally getting a taste of pussy. Jadynn Stone continues to lead, opening up Buttercream19's legs to taste that pussy. They talk and play, showing off plenty of jiggling belly and jiggling tits as they go. Their passion is palpable while the two BBW lesbians finally resolve their sexual tension.
Watch Jadynn Stone and Buttercream19 fuck now, over at Plumper Pass!