When I blogged 36JJ Alicia Loren's super busty schoolgirl series last week on my big boob blog, I was careful not to use the word slut in my accompanying text despite the constant peer pressure conditioning in highschool that any girl with big tits was a dirty slut by default. Personally, I'd always found the adolescent assertions that busty girls are easy or that big girls are grateful for sex of any sort to be an unfair and inaccurate sexual stereotype at school (and the prevalence of said sexual sentiments didn't get any better when I'd grown up from childhood into adultery either!). Just because you're a fat girl with big tits or a big girl with fat tits doesn't make you the school slut by any stretch of a horny teenager's hormone-fuelled post-pubescent imagination.
No, to be the stereotypical busty sexy schoolgirl slut, a girl needs to fuck – a lot. But big boobs and sex aside, it's not just the shagging that makes a girl a slut, it's just as much what she does when she's not fucking that truly qualifies her for this historically derisive title of questionable repute. She needs to be a sex-crazed nymphomaniac eager to pleasure every penis she can, jacking off every dick, tom & harry she can get her horny hands on using the some feeble excuse like she's out of hand cream – the kind of girl who dreams of having a cock in her cunt or, even better yet, in her cock-hungry mouth as she fondly recalls the gob-filling phallic sensation of the last penis to pass through her lips for a blowjob in order to satisfy her taste for semen on her cum-dumpster tongue in a rash of lingual lust – the sort of slut girl who finds herself masturbating to the memories of promiscuous encounters gone by in an effort to fulfill her sexually insatiable craving for cock – in short, a sexy slut like I imagine HH-cup busty BBW Leah-Jayne must be like on her days off when she's not doing hardcore porn shoots…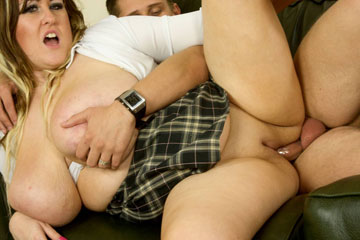 …but before you get the mistaken impression I look down upon dirty sluts in the least (unless they've gone down on me to suck my cock between their sluttly little lips, that is), I should point out that for quite some time I've been on a concerted carnal campaign appeal to alter the implications of this term from being a lurid label of derision to one of erotic endearment. The simple truth of the matter is that I LOVE SLUTS and truly think they're hands down the sexiest girls of all. You can keep your respectable girls of good moral standing, as I couldn't even imagine myself dating or marrying anything less that a total slut girl with loose morals willing to jump into bed with every guy she meets who has a penis and a pulse to his genital credit.
Perhaps it's because it was the promiscuous girls with a bad reputation who kept me company in high school whilst the prick tease Puritans avoided me like some perverted plague or perhaps it's because I've remained a slut magnet later in life with fond memories of slutty schoolgirls gone by or merely my long-standing love for sexy dirty blonds with big tits that lovely busty dirty blond Leah-Jayne's latest hardcore series in her sexy school uniform flashing her pussy then casually masturbating whilst licking her tits turns me on to no end, let alone the look of devilish delight in her sexy eyes upon finding a penis in the pants of a passer-by with which to bone up on her cock sucking skills coaxing his uncircumcised penis head from its foreskin with her tongue before a saliva lubricated titfuck in the colossal cleavage of those HH-cup huge hooter of her as a foreplay prelude to full-on fucking in these hardcore sexy schoolgirl slut photos and videos cumming on her tits with busty slut loving courtesy of BBWDreams.com:
38HH Leah-Jayne in Dirty Blonde BBW Schoolgirl Slut Photos from BBWDreams
38HH Leah-Jayne in Dirty Blonde BBW Schoolgirl Slut Videos from BBWDreams
CLICK HERE TO VISIT 38HH LEAH-JAYNE AT BBWDREAMS.COM

(webmasters)