Whenever I see someone on one of those Wii Fit thingies doing the hula hoop exercises, I always think it would make a brilliant video shoot if we had a busty nude BBW gyrating on the platform with her tits swinging to and fro whilst her ample ass spun in circles whilst virtual hula hoops circumnavigated her voluptuous belly to the point of distraction. For that matter, whenever I see a Wii controller, I begin contriving all manner of wanking games from jacking off your virtual penis to dildoing a pussy to titfucking a plump pair of gigantic juggs – first one to have an orgasm wins!
But, alas, no such virtual sex games exist for that particular platform, and even a search for naked hula hooping turned up nil. :~( However, I was able at least to find some busty BBW hula hoop action, albeit in bathing suits rather than stark bollock naked as it should be, over on BBWdreams the other day…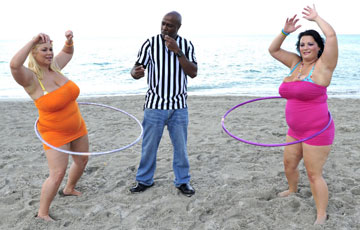 …the huge hooters hula hoop honeys are, of course, drop-dead gorgeous super busty BBW beauties Samantha 38G & 40H Brandy Ryder (the latter of whom seems to be into all manner of busty sports like big boobs basketball and such). Our boobsome twosome are walking down the beach when they happen upon a displaced referee holding two hula hoops in his hands. The big breast loving ref offers a $100 prize to whichever busty beach babe can hula hoop the longest and, as it's basically free money, our dairy-licious duo take him up on the challenge!
Sexy Sam's G-cup gyrations win hands down in both heats (although, to be fair, I expect beautiful Brandy's heavy H-cup breasts throw her big boobs balance off a bit). The randy referee then invites the pulchritudinous pair back to his condo for another sort of contest of a more carnal variety, this time with a cool $200 at stake. The girls acquiesce and it's not long before they're going tit-to-tit with our well-hung ref sticks his big black dick in the marvelous, magnificent massive mammary mix!
From there on in, the condo-based BBW sex competition degenerates into a full-on hardcore interracial threesome with big boobs blowjobs, busty titfucks and groupsex goodness ending up in a big black cock cumshot across the collective colossal cleavage of both sexy sets of huge tits in these super busty BBW interracial threesome videos & photos starring pictures of pretty plumper perfection Samantha 38G & 40H Brandy Ryder at BBWsGoneBlack.com:
Big tits busty BBW interracial threesome photos with Samantha 38G & Brandy Ryder at BBWsGoneBlack
Big tits busty BBW interracial threesome videos with Samantha 38G & Brandy Ryder at BBWsGoneBlack
CLICK HERE TO VISIT SAMANTHA 38G & 40H BRANDY RYDER AT BBWSGONEBLACK.COM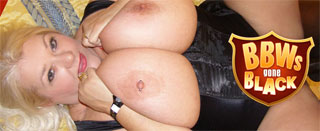 (webmasters)