With a gorgeous face and a beautiful belly, Rose D Kush has her thick body worshipped and ravaged by five men. This BBW may look sweet, but not just any woman can take on such a challenge! The folks at Plumper Pass decided to give this brunette BBW a treat! The scene begins with Rose revealing she was cheated on. Now she can prove to her cheating man exactly what she can take. We think she deserves 5 cocks, too! She's wearing a sexy white bustier, with her flubby FUPA peeking out of the bottom. As you admire her beauty, one thing we noticed right away was how tasty her thick, tattooed thighs looked. One thing is for sure, you'll wish you were 1/5 of this plump babe's retribution with her plump, sexy body.
Rose D Kush wants to get destroyed, and she's got the right combination of cock to make sure that happens! It's obvious that her sloping belly and big tits are tempting for each one of them. This brunette BBW is set to handle each one just right. The men enter the bedroom and immediately start running their hands over her curves. There's a whole lot to love with this beauty. They begin by rubbing that gorgeous belly, making it jiggle. They do their best to make sure she's ready to take their cocks!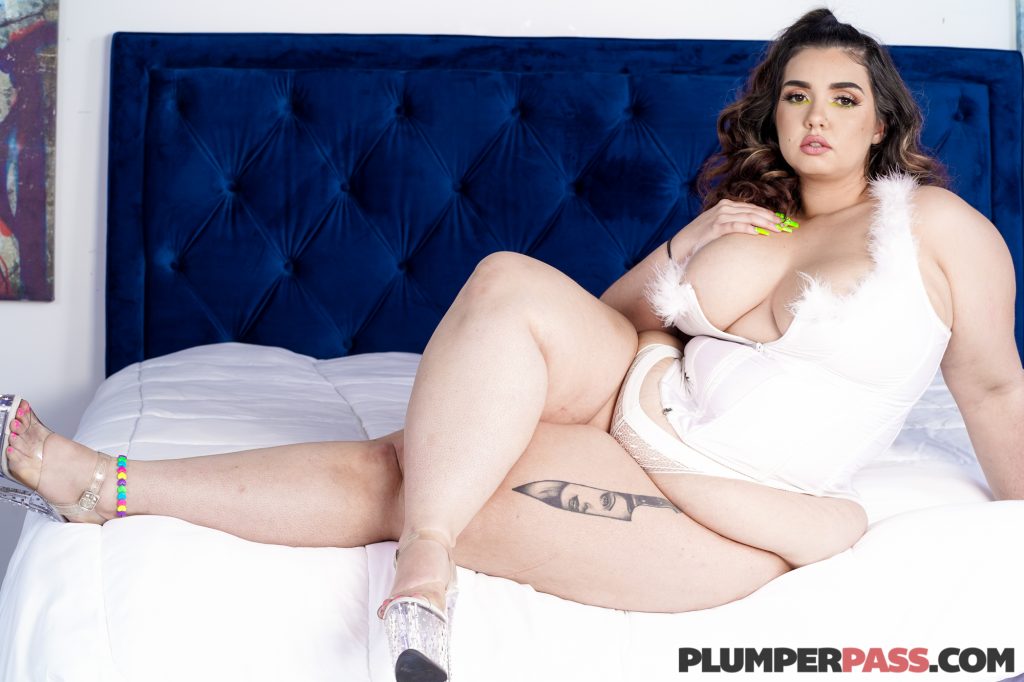 Brunette BBW Takes 5 Cocks in her Tight Pussy
These men are ready to give Rose D Kush the sexual exploration she really deserves. Fuck that cheater! She's a thick dish that deserves to be treated like a queen. Once she's ready, they will take over. So that means that the guys undress the brunette BBW little by little, you'll get more of her curves. They jiggle her belly rolls and her big fat tits throughout, which makes this scene extra tempting!
Rose D Kush is growing wetter by the minute, having her big tits and ass worshipped. She bends over and the men joyfully smack that jiggly ass, and spread those luscious ass cheeks. She gets down on her knees after a whole lot of ass worship, and has 5 cocks surrounding her. This is when she begins to get ultra excited! As they continue to play, each guy rotates, taking turns in her mouth. Like a pro, she grasps two more with her hands. She's loving all the attention, getting each cock rock hard and ready to fill her holes.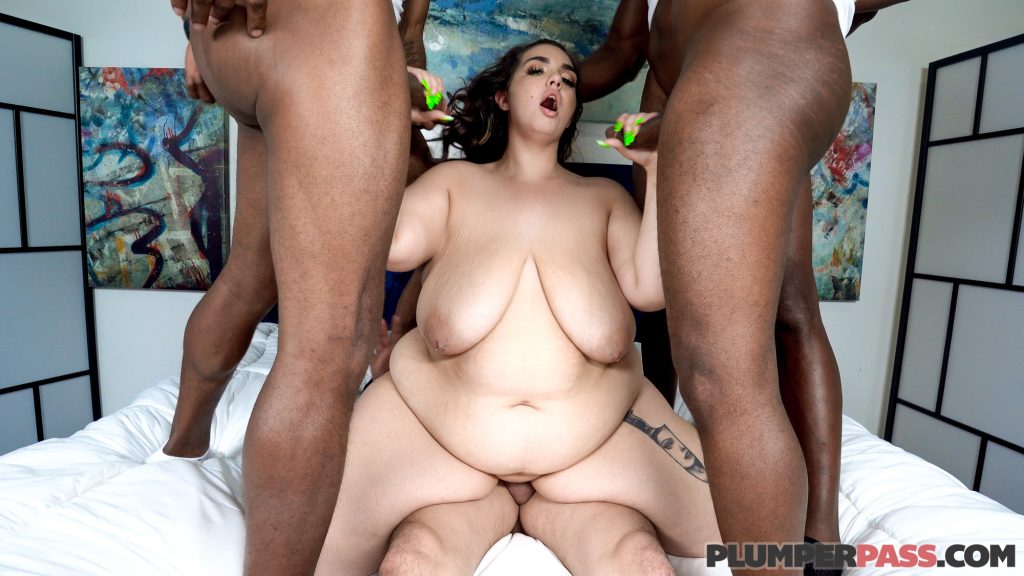 Rose D Kush Gets a Hardcore Gangbang
Beautiful brunette BBW Rose D Kush is getting what she wished for; 5 big cocks! She's happy to do as they say, and have every cock deep in her tight pussy. After the rotating blowjob, Rose eagerly takes the first cock! When she gets on all fours, she gets what she wants. The naughty girl starts to moan loudly as the boys start taking turns inside of her. They bring this fat brunette BBW to orgasm many times, ensuring that this good girl gets real payback on her cheating man
You can watch plump, sweetRose D. Kush in a gangbang over at Plumper Pass!