We can't guarantee Luna Lark is good at pool, but we can believe that this brunette BBW is great at shaking her ass! Only one shot in, and her short shorts are riding up on her pussy so much that hitting a bunch of balls makes her think of dick. She runs her hands along her pool cue, thinking of stroking cock, as she bends over the pool table. This fat brunette is already getting horny with the pool stick alone, and decides showing off her ass is a much better use of her time. She looks so good in her skimpy outfit, showing off her generous curves and slutty, gorgeous face.
Luna Lark bends over the table, spreading her big ass cheeks. This thick ass brunette is wearing short shorts that really show off her sweet bubble butt. She shakes her ass in her denim shorts, and aches to show you more. This naughty BBW fantasy cannot wait to slip off those shorts and panties and show you that fat ass for real. She slips off her shorts and begins to become the naughty brunette BBW you've been dreaming about. She's about to take every fantasy you have and act it out to the best of her solo capabilities.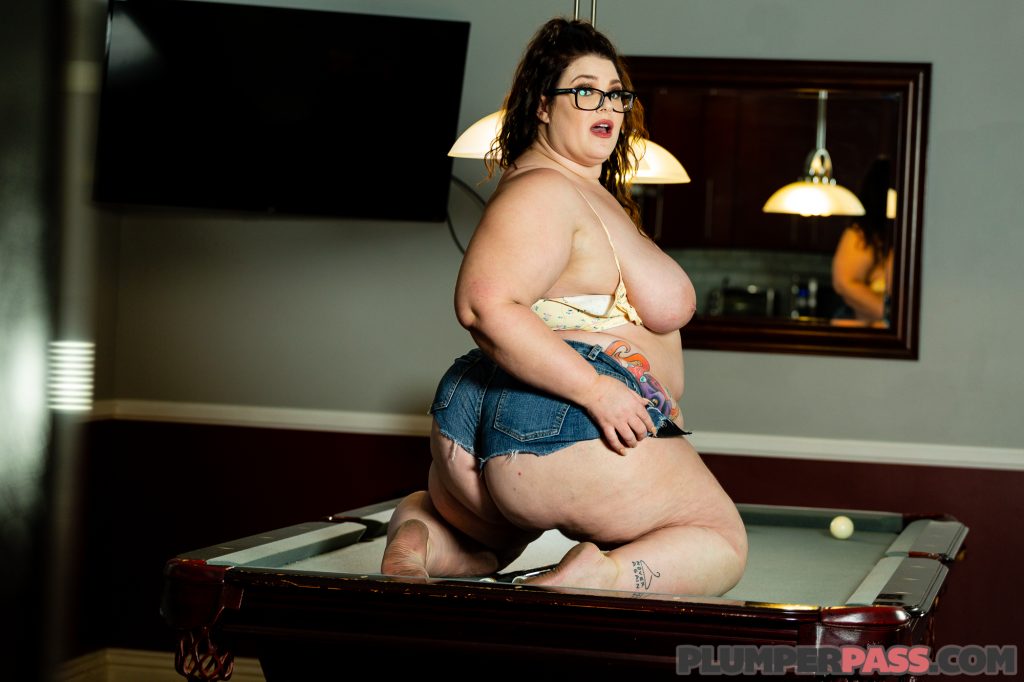 Brunette BBW Smacks Her Big Tits Around
Luna Lark loves playing around and giving JOI as she goes. She slips her big tits out of her top, sucking on her nipples and fantasizing about you being the one to bite those huge nipples. This babe is achieving naughty levels of horny and she loves playing with her body for you. After slapping her tits around, smearing her own lipstick on her tits. She grabs that pool stick once more, fantasizing about having a big cock to suck on instead of a real cock.
This brunette BBW gets more and more stripped down, flaunting that belly. She grabs it, allowing it to drop and jiggle. It's almost as delicious as her tit drop. This BBW is full of luscious curves, on every inch of her body. She continues to play with that pool stick, sliding it between her pussy lips and humping it for pleasure. This naughty BBW is enjoying her tease and dirty talk. Since she doesn't have a real cock, she has to use her imagination to ensure pleasure.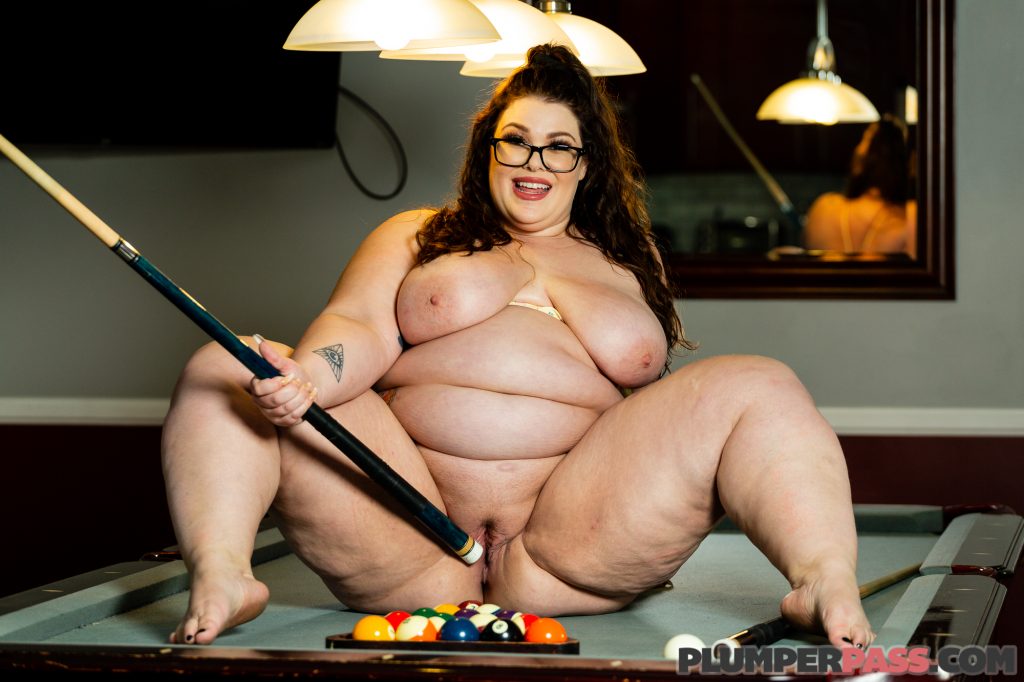 Luna Lark Masturbates On Pool Table
This brunette BBW gets naughty, using everything surrounding herself for pleasure. She even gets the 8 ball in on the action, rolling it against her wanting clit. We're glad to see that she even somehow keeps her glasses on, throughout, getting more and more active with her pleasure. She grabs that pool stick once more driving it into her shaved pussy.
This exciting, filthy brunette BBW is having so much fun, fucking around on her own! she may not even need a real cock! Even so, Luna Lark finds herself craving you, begging you to be the one biting her nipples, rubbing her pussy, and sliding your dick inside of her.
You can enjoy more of sexy BBW Luna Lark now at Plumper Pass!