*sigh* It seems like almost forever since my wife & I have had a good threesome (we seem to be going through a sexual dry spell in terms of having spare cock to hand), so much so that I've nearly forgotten what it feels like. However, when I see sexy scenes like H-cup honey Brandy Ryder servicing two big black cocks at once in her hardcore interracial threesome series at BBWsGoneBlack…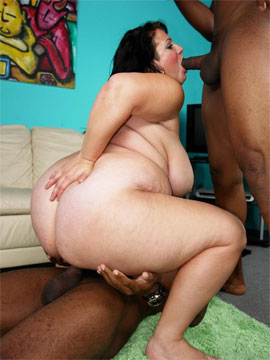 …the super sexy memories cum flooding back to my loins from happy threesomes gone by! The last one I remember happened at a hotel room party last year. We'd started in the hotel bar but, when they closed down for the night, about half a dozen of us headed back to our room to carry on partying. At one point, I remember chatting up two busty girls in the corner (as you do) when one of then, who was obviously paying more attention to whatever was going on over my shoulder than she was to me, motioned for me to have a look.
And so I turned around, only to find that my wife had mounted some blonde bloke on our bed in her customary fashion and was pumping away at his penis with her pussy (she must've worked quickly, as I coudn't have been chatting to the girls for more than a few minutes (then again, "shut up, get naked and get on your back" is a favourite phrase of hers)). I stood there admiring the erotic action for a moment until my raging erection told me to fuck my voluptuous voyeur's view perspective and get in there!
I instinctively stripped off my trousers and remember one of the girls' hands "accidentally" brushing my erect penis as I made my way to the bed, my throbbing cock leading the way like a genital dowsing rod in search of a nice, wet pussy to penetrate. I got up on the bed and, kneeling behind my sexy fucking wife in doggy-style fashion, slid my penis into her already occupied pussy alongside his and commenced pumping in counterpoint to the rhythm of his thrusts, but it wasn't long before our impromptu threesome had become such a fucking frenzy from my wife bucking her hips against both our boners that his cock kept falling out of her cunt!
Ah, but leave it to one of the now sex-crazed girls watching us to come to rescue his erection from fucking thin air. This busty beauty knelt down beside the bed, reached up between our tangled legs, grabbed hold of his cock and stuck it back in beneath mine! But our horny heroine didn't stop there – oh, no! – she kept on holding his penis in place within her crowded pussy until all three of us had cum (which didn't take long considering all of the multi-sexual stimulus we three fuckers were getting our of it)!!
Mmmm, lovely memories, all. Granted, the Brandy Ryder threesome is totally different, her boning two rather well-endowed black blokes instead of two weedy little white dudes like me and my wife's toy-boy. There's also a far more voluptuous variety in the interracial threesome fucking involved, since these three fuck buddies take their time to savour busty BBW threesome sex to the max! Still, it was enough to sexually stimulate fond memories of threesome fucks gone by.
So special thanks to beautiful busty 40H big boobs BBW Brandy Ryder for going black in a big way twice over and being spit-roasted by two enormous ebony boners in this hopelessly horny hardcore interracial threesome video from BBWsGoneBlack.com: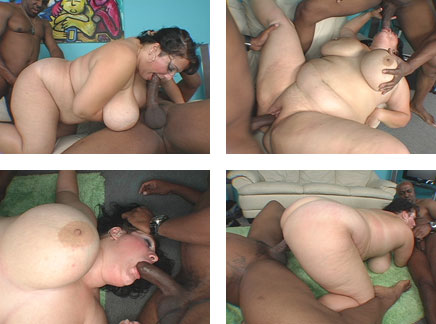 CLICK HERE TO VISIT 40H BRANDY RYDER AT BBWSGONEBLACK.COM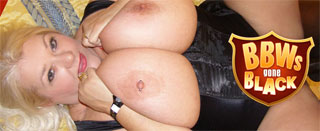 (webmasters)