From across the pond cums Kirstyn Halborg; a sexy blonde BBW with a penchant for BBC! She's gorgeous, she's busty and she's got everything a BBW lover could ever want! Including her belly you'll wanna bury your face in. This plumper is hot and horny and aching for a great time with a stud of a Black man. Especially one who has an enormous cock! She's aggressive and excited in the BBW Land scene, and we loved it from start to finish!
The blonde BBW looks like a sexy cross between glam and slutty. She speaks softly with her British accent, giggling in anticipation of getting deep dicked in this scene. We begin with just Kirstyn Halborg, but Sydney JJ joins in later so she can get a piece of that huge cock herself! Lovely Blonde BBW Kirstyn is dolled up in blue, with a fancy updo, stockings and matching heels. She's ready to have some fun, and has her hands already busy exploring her hot Black scene partner.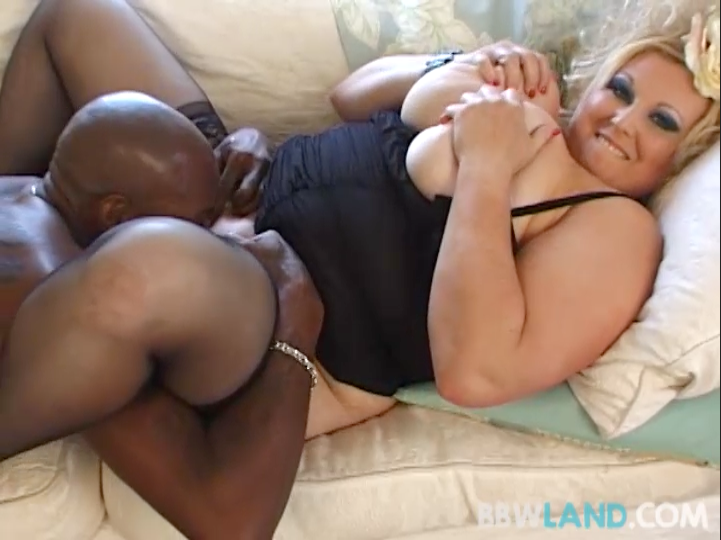 Kirstyn Halborg is a Blonde BBW That Needs To Fuck Now
Sexy blonde BBW MILF Kirstyn Halborg is accepting her man's hungry pleasure with joy! The pair begins to make out and strip off her clothes. She first abres this big ass tits, with pert nipples ready to be sucked. He takes every bit she's willing to give as he continues to drop her clothes bit by bit. He pushes her thick ass over and buries his face in that fat pussy. She squeals with delight, and he ravenously slurps up her juices. When the salacious blonde BBW wants more, she makes a move! This babe takes her time getting his huge cock good and hard, so she can get properly railed as she desires.
Kirstyn Halborg loves sucking cock! She takes as much of that big black cock as she can, down her throat. At this point, this blonde babe is getting so much hornier. Now that he's good and hard for her juicy fat ass, she climbs right on top of him. This Blonde BBW rides so right, showing off that big ass while she goes. The pair is heaving and panting, when a surprise guest enters the scene.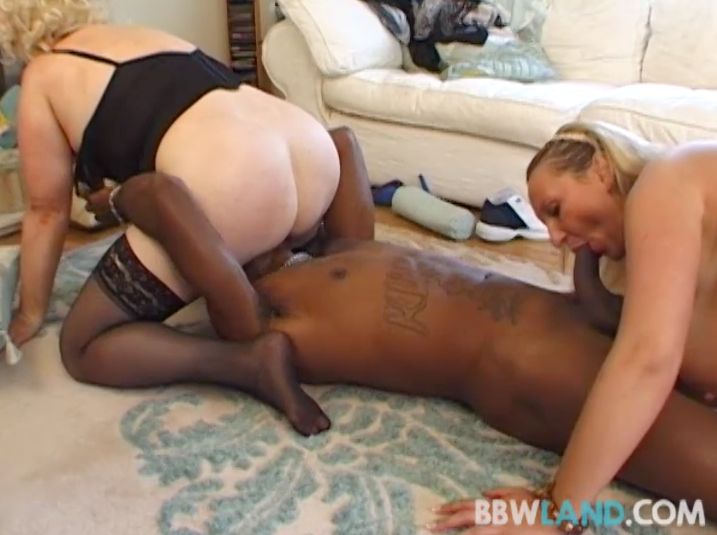 Sydney JJ joins for an BBW Interracial Threesome
Kirstyn Halborg and her man have really put in some work on each other. Pillows and clothes are strewn about the room, and they're still going. They're entirely focused on each other, falling to the floor in 69, while she whispers dirty talk to him. She's loving every minute as they switch between oral and deep penetration. When Sydney JJ walks in, she's excited to see her friend getting railed by Black cock! Kirstyn commands her to take that cock out of her pussy and suck it. She watches while Sydney puts in some work, and that cock continues to rage for both of these blonde BBW babes!
The action heats up as Kirstyn Halborg watches her friend get some action from her partnet. This interracial hardcore scene just turned into a luscious threesome. That's a whole lot of extra ass and pussy to please! Both of these blonde BBW babes have huge tits and sucking skills to envy. They take their turns on this man's cock and on his tongue. They finish off that impressive cock together, happy to get stretched out with every thrust.
Get down now with Kirstyn Halborg and Sydney JJ now over at BBW Land!