Amber Kush is just gorgeous, in this scene for Plumper Pass! She's blonde, busty, shapely, with a big ass worth spanking. The folks at Plumper Pass loved her right away, and we can see why! Amber bends over to pull out clothes from a dryer, finding a super sexy lingerie set. This lingerie happens to be a color that looks incredible on her alabaster skin, so she decides to strip off her clothes and try it on right then and there.
After jiggling her pierced titties with the bra, Amber Kush decides it's worth a try to slip it on. She finishes dropping her jumper, and plays with her big tits and belly as she continues to put on the green lingerie. This blonde BBW finds that even the panties fit just right. You'll see her panties slip in between her jiggly ass cheeks, as she rolls the straps of her panties over her belly. This lingerie fits her perfectly! What a pleasant bout of happenstance!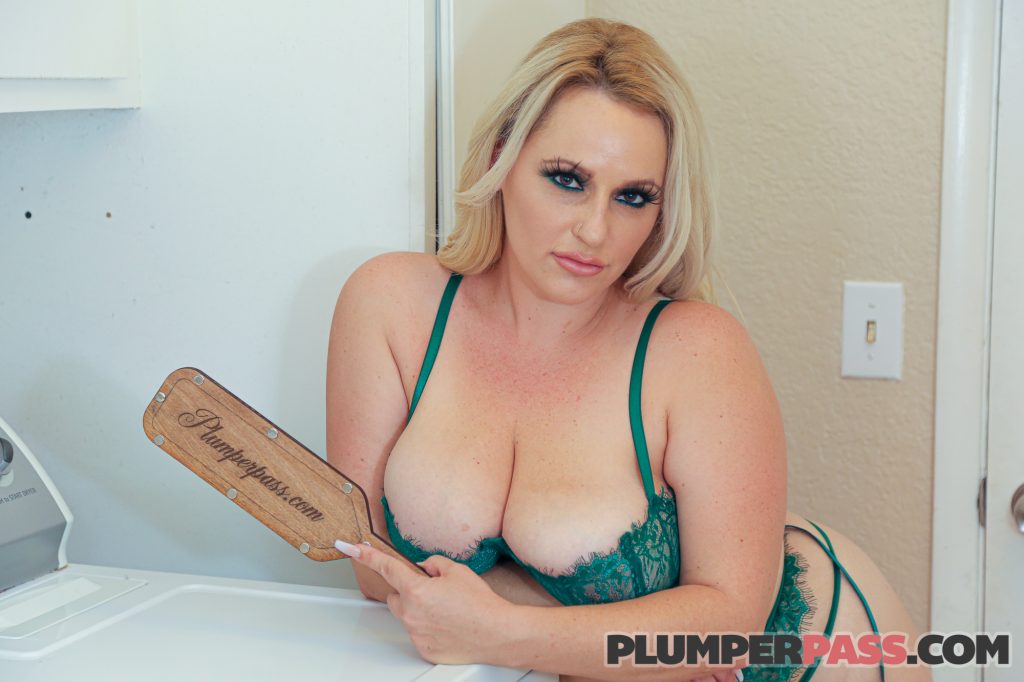 Amber Kush Loves To Be Spanked
Amber Kush continues to put on the bra, putting all her straps in place. The underwear flips perfectly over her bulgy belly, and the green lace simply looks incredible over her plump figure. She continues to finish her chore and happens upon another unusual find! Why, it's a paddle! It's perfect for smacking this blonde BBW's glorious ass. She thinks it's a sexy playtoy, and proceeds to smack her ass hard.
With each spank, this blonde BBW's fat ass grows more and more red. She bends over, pleased with how it feels against her skin. Now, Amber Kush is distracted from her chores, and decides it's time for playtime! The begins to slip off her lingerie that she just tried on, and puts that paddle to use.
Amber Kush sits on top of the washer, jiggling her rolls and running her hands over every curve of her body. Her big tits hang loos, as she reaches down to her pretty, shaved pussy, stimulating herself with her fingers. She begins to stroke her cit and grab her tits, growing wetter by the minute! Once she grabs the paddle, she gets creative by using it for more than simply spanking. She strokes her pussy with the handle, moaning as she gets her juices all over. When she slides it inside herself, she moans loudly, enjoying the stimulation by her own hand.
Blonde BBW Masturbates Right Then and There
If you want to see more ass spanking, do not worry! Amber Kush is just getting warmed up! The sinful pleasure she receives from this paddle is already boner inducing enough, as you watch her play with her chubby body. Her pussy grows more and more wet as she continues to pleasure herself with a non-traditional toy for penetration.
Amber Kush enjoys getting that toy as deep as possible while she rubs her clit. The blonde BBW moans louder and louder, as she gets closer to a juicy orgasm right there in the laundry room!
You can watch Blonde BBW Amber Kush Masturbate now in this scene for Plumper Pass!