aka On the Big Breast Candi Mountains
I know I'd already mentioned it here, but just wanted to let the busty BBW lovers amongst you who don't get on My Boob Site (and haven't noticed the sidebar) know that we've started a Twitter feed to provide updates on all our porn blogs as well as previews plus bonus material that doesn't make it into our posts. So, if the thought of more tits from two Twits stimulates any erotic interest whatsoever, give us a follow…

…if you are following us, of course, you'd have already seen "udderly" amazing 46M Cotton Candi, the super busty black BBW with massive M-cup breasts whose hardcore pics we'd Tweeted a couple days ago…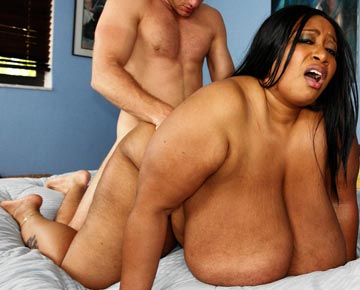 …thus heralding the arrival of the second biggest breasts the world of My BBW Site has ever witnessed with well-endowed wonder! Honestly, this busty black beauty of super-sized boobs could give Anorei Collins some serious tits competition!! Oh, and considering colossal cleavage chocolate cutie Cotton Candi does hardcore, is anyone else thinking a threesome with Sapphire might be in order (hint hint oh Big Tit Pimp)?!
But gigantic tits sex aside for a moment (erm, provided I can vanquish this unbelievably busty voluptuous vision of engaging those enormous ebony breasts in a massive mammaries M-cup titfuck long enough to concentrate on anything else), I figured it'd be nice to see the sensual softcore side of Cotton Candi before we tuck into her hardcore videos.
After all, she does some killer sexy sideboob shots where luscious love handles of extra large breast flesh wrap in teasing rolls of tit fat folds around to her back (my second favorite feature of busty female breast anatomy) and can even go totally tits up to rest her weary head using her incredibly huge, pendulous breasts as pillows (everybody needs a bosom, or so I've heard). Oh, and if we can tear our attention away for her tits for a bit, this gorgeous nude girl with giant boobs also has an adorable face & sexy smile/pout for a perfect pulchritudinous package!
And so, here's cute & curvaceous extra busty black goddess of breasts super-sized, BBW Cotton Candi getting her most gigantic juggs out in softcore photos then fucking in hardcore videos from BBWdreams.com:
46M Cotton Candi photos from BBW Dreams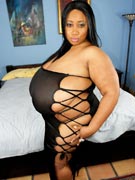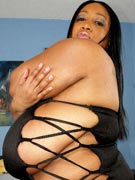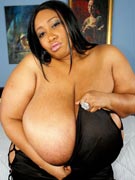 46M Cotton Candi videos from BBW Dreams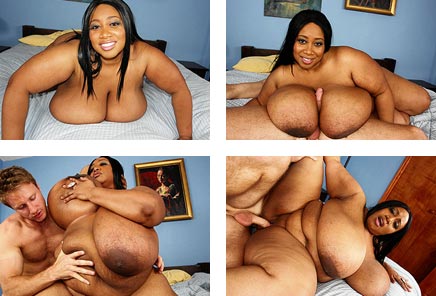 CLICK HERE TO VISIT 46M COTTON CANDI AT BBWDREAMS.COM

(webmasters)