Pink-haired BBW beauty Autumn Hart is waiting for a delivery, and seems surprised that her delivery guy is actually a hottie. She's pleased to see Puerto Rock at her door, dropping her food off. She assures him that she has already given him a tip, but happens to have a favor to ask of him. She figures he's muscular and he can handle some of the heavy lifting she needs some help with. This fat beauty is happy to turn up the heat in this scene for Plumper Pass!
He asks Autumn if he will be getting an extra tip, and she assures him that he definitely will! She leads him up the stairs and he can't help but notice her jiggling thighs as she bounces up the stairs. He dutifully follows this plumper up and into her bedroom, and asks exactly what she needed help with. She lifts up her top and shows him the heavy lifting that she needs. She flaunts her heavy belly to him, and he immediately feels like this is a job he can really handle.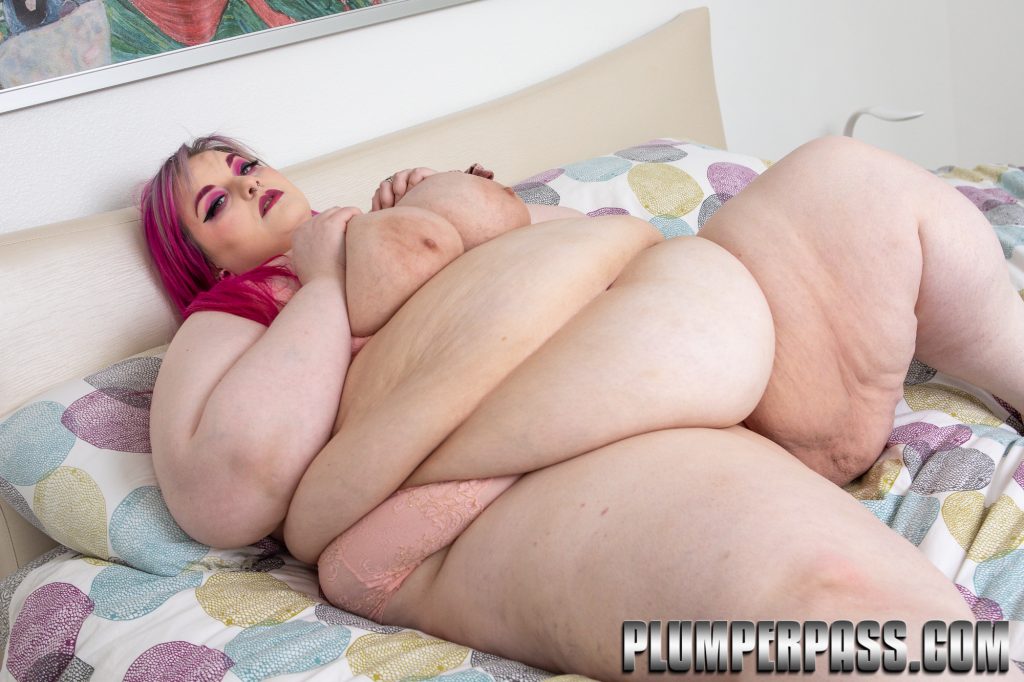 Hardcore BBW Dick Delivery
Puerto Rock begins to undress beautiful BBW Autumn Hart, playing with her rolls. She's much more than a handful, and he explores her big belly as he drops her clothes. He definitely made the right choice to deliver today! Autumn may have had food delivered, but what she was really craving was a real Dick Dash! He slips off her clothes and kisses her neck exploring her lush belly. Her skin is so smooth and irresistible, and she's loving the massage.
Autumn obediently listens to him, as she takes her big heavy tits out of her bra and crawls onto the best, with her body jiggling as she crawls on all fours. She's fed a big cock, which is even better than she was going to have delivered. She sucks him hard, with a smile, until he asks for her to sit that big fat ass on his face. She crawls on top of him and lets him bury his face in her ass, as she jerks his cock.
Autumn Hart Big Tits BBW Fucking in Doggystyle
Finally, they're ready for the final show, and Autumn is happily laying flat on her back, sucking on his cock. This is the package she really wanted delivered! He's ready to side right into her shaved pussy and she gasps as he enters. He pounds her hard as she lays back, with her tits practically hitting her in the face. This plump babe loves gets a deep dicking, and he's really enjoying her fat pussy.
The motion is right as her cunt gets filled up with his cock, as he uses her belly to support his pounding. He makes sure to play with every bit of her body, sucking on her luscious nipples as he works her pussy. She giggles as he pounds away, and they shift into doggystyle. Now you can enjoy her beautiful ass shaking as he pounds away.
You can watch fat slut Autumn Hart now over at Plumper Pass!