This Big Belly BBW with an hourglass figure invites you into her shower, where she washes her body, allowing water to soak her huge breasts as she cleans herself from head to toe. This scene for BBW Land shows a horny blonde BBW tempted into fucking herself. Her roommate left a dildo in the shower, and she's all too tempted by it. This BBW slut is so horny, and finds it very tempting. All she wants to do is slide that dildo inside of her. It's so big and colorful and she's so horny! She tries to push it out of her mind, and not use her friend's dildo.
That colorful dildo is practically staring at this! She continues to shower, and reason with herself about whether or not she should use this dick. She's there all alone. Her friend will never know she used it. She doesn't know if it's even clean! Still, this blonde BBW cannot resist the temptation of a big colorful dildo staring her in the face.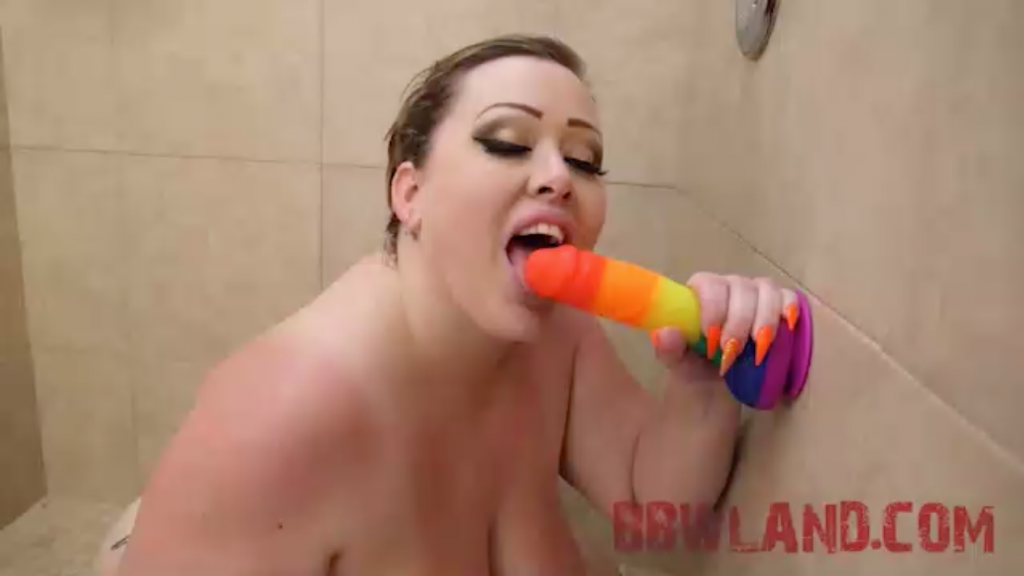 Blonde BBW Needs a Dick in her Mouth
This BBW Slut decides it will be okay if she gives this dildo a blowjob. She still doesn't know if it was even washed afterwards but this doesn't seem to disturb her thoughts one bit. This Big Belly babe lowers her mouth onto the colorful cock, slurping all over it. She's all alone and no one will ever know! She's been aching for cock and she's already having so much fun with a blowjob. Maybe she can do a few more things to satisfy her filthy solo urges.
This blonde BBW begins to lose herself as she plays, sliding the rainbow cock between her tits. She continues to reason away her guilt, as she plunges the cock between her huge tits, deciding whether or not to use this fat dick for her own pleasure. She eventually decides it's okay to do it, thinking that sitting on this cock might satisfy her horniest urges.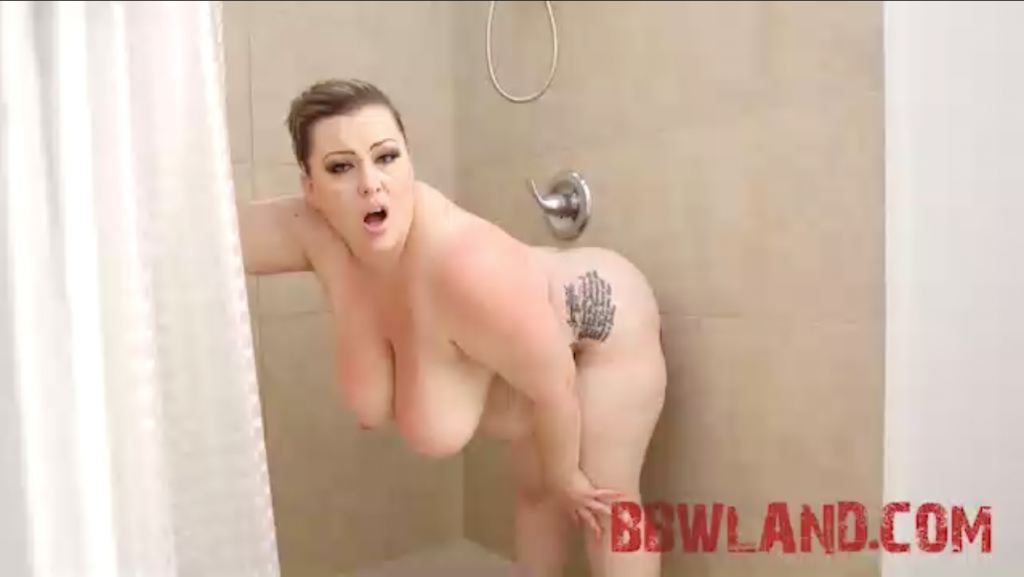 Horn Big Belly BBW Fucks Herself With Rainbow Cock
She sits on this cock, grinding her big body on it. Her belly hangs down and flops along with her tits. This big girl loves the sensations she's getting in this shower, fully taking advantage of the situation! You can even hear her ass clap as she grinds her pussy harder and harder on this cock, bracing herself against the shower wall Now her juices are flowing and she's about to reach peak orgasm on her friend's dildo..
This Big Belly BBW dips down enjoying the taste of herself on the cock. She claims that she loves to taste the rainbow now. This big belly BBW slut couldn't resist fucking herself, and hopes that one day she will get more surprise cock in her future!
Watch this Big Belly BBW slut fuck herself in the shower now over at BBW Land!