Sure, stunningly sexy, busty blonde BBW Scarlett Rouge has alluringly ample assets all around…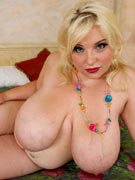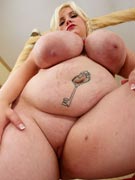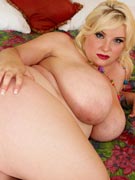 …but, in her latest appearance on Plumper Pass, the fat fetish focus rested firmly upon one erogenous region all too often sadly neglected in the BBW porn world (which is why I blog it again & again & again & again, whenever the erotic opportunity arises)…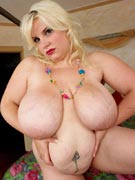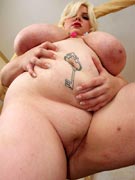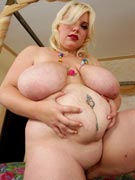 …yes, luscious large breasts, bountiful big ass & pretty plump pussy aside, I'm talking about sensual Scarlett's sublimely beautiful big fat belly! Forget my old complaint re: those BBWs & plumpers past who had a propensity to cover their bellies in porn (well, 'til they saw sense and came to appreciate how sexually attractive fat bellies can be to BBW lovers like you & me). My new issue is not with those women well-endowed with ample abdominal assets but, rather, with their neglectful sex partners in porn, all too often oblivious to the fact a chubby tummy has an erogenous zone of its own!
I first noticed this on a casual BBW mate of mine whom I used to compliment on what a beautiful belly she had. Over time, she let me touch it and, from that point forward, she began asking me for a belly massage whenever I saw her! Our usual position for this was with me sitting on the floor behind her. I'd reach around those sexy love handles hanging over her hips and, sliding both hands up under her shirt, grab two heavy handfuls of fat fondling flesh fantasy. The first time it happened, I remember being embarrassed when I felt my erection growing against her ass cheeks, hoping she wouldn't notice since she was just a friend and not a fuck buddy (although, if indeed she did feel my boner bulge on her butt, she never mentioned it).
Over time, we became comfortable with each other (that, or I just got brave enough) to allow my tummy massage technique to extend to fingering her belly button (in fact, I'd even clipped my finger nails in eager anticipation of this "next step" in my fat belly fetish wet dream "cum" true). It was then that I noticed the change. It started with a much deeper heavy breathing on her part but, not long thereafter, I had her squirming on the floor in front of me, as if dry humping the shag carpet below. Honestly, I could not believe just how turned on this girl was getting from a flabby belly massage!
I never fucked her (ah, but that's another story for another blog), although her intensely erotic reaction to my tactile stimulus did lead me to do a bit of research on the erogenous potential of an ample abdomen, through which I'd learned of the close carnal connection between navel and clitoris. As it goes, the sexual anatomy of the pubic region extends all the way up the umbilicus so, under the right circumstances and with clitoral connection intact, the stimulation and arousal a woman receives from belly button play can feel almost like a pussy massage by proxy! Alas, who'd have though it's possible to get to 3rd base with a girl without reaching below the waist line?
Ah, but I've drifted well beyond topic here already when I'm supposed to be talking about super sexy blonde BBW worthy of big belly worship Scarlett Rouge, as I'm pleased to report she's found a true belly lover sex partner willing to pay some sensual attention to her ample abdomen for a change! In fact, he can't keep his hands off it as if the desire to satisfy his sexual needs to be kneading fat belly flesh is stronger than his urge to fuck her!! Hmmm, I'm just wondering if he'll figure out that that tummy tattoo around her belly button is trying to indicate her navel as key to her clit in these big tummy fondling photos & sexy fat belly massage videos from PlumperPass.com?..
Scarlett Rouge BBW beautiful big fat belly massage photos from Plumper Pass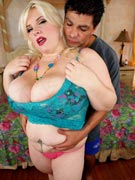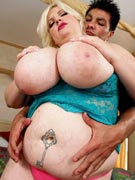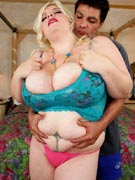 Scarlett Rouge BBW beautiful big fat belly massage videos from Plumper Pass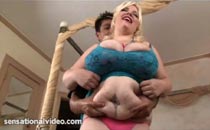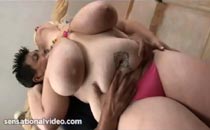 …it's so refreshing to see my fat belly sex fetish has finally "cum" into focus for the Plumper Pass peeps, and special thanks to Scarlett Rouge for sharing the sublime natural beauty of her nude belly with the pride she so deserves (I just wish more girls would follow the shining example she sets in this sexy belly-centric series (in my sincere hope of seeing full tummy cleavage coitus in the future!)), although it would be remiss of me to leave you all under the mistaken impression that incomparably beautiful belly porn is only thing this update has to offer. And so, to round things out nicely, a far wider ranging hardcore preview of the new Scarlett Rouge video from PlumperPass.com: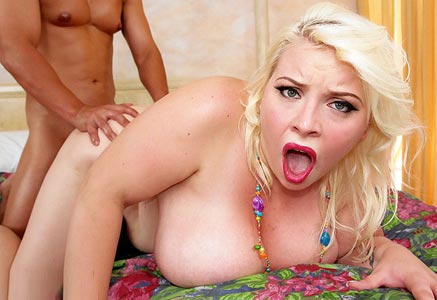 CLICK HERE TO VISIT SCARLETT ROUGE PLUMPERPASS.COM

(webmasters)