Apologies for not posting in what seems like forever, but I've been waiting (im)patiently for the official launch of the ultimate deal in plumpers & BBWs on the 'net! But more about that in a moment, as I was just perving through an all-new site called Toys N Tits and came across a most extraordinary video from busty blonde BBW Sophie that I had to share: Perched precariously at the precipice of the supersized BBW end of the spectrum, Sophie does pretty much everything imaginable with a bottle of baby oil (apart from fucking it, perhaps, although I suspect her vastly voluminous vagina could quite easily accommodate that as well – especially after seeing the fisting scene within which Sophie shoves her whole hand into her wet pussy up to the knuckles!)! That's close to the climax, though (and in more ways than one!), so perhaps I should just begin at the beginning.
This video kicks off with the voluptuous Sophie sitting in bed with nothing but a bottle of baby oil to keep her company. She starts with her huge tits (which is precisely where I'd commence my explorations, given the opportunity), uncapping the bottle and pouring out a generous amount onto her ample assets and massages it in, fondling and squeezing her slippery big breasts with abandon before gravity carries her down to her plump tummy. Oiling it in kind, Sophie proceeds to grab big handfuls of belly flesh, kneading her fat like a big shiny Buddha (albeit with boobs). Moving down to her legs, she similarly slather them up and then uses one her massive mammaries to massage oil into her hefty thighs until she at last rolls over and proceeds likewise lubricate her huge ass cheeks whilst running her hand through the copious cleavage of her crack.
The best is yet to come (or cum, as the case may be), however, when Sophie shifts onto her side, granting us a glorious full-frontal gaze upon her Rubenesque form. The baby oil soon finds its way into her plump pussy and what began as an innocent massage gives way to hot & horny masturbation. What's best about this bit is not watching her hand slide effortlessly over and into her now-frictionless pussy flaps (although that's pretty damn sexy in itself) but the squelchy sound captured in the close-ups and accentuated by the oil as Sophie thrust her fingers and then her whole fist into the fat folds of her cavernous cunt. She's one of those well-endowed women with whom you could imagine stuffing your cock in and then having enough room left over to insert a hand alongside and jack yourself off inside of her whilst using your thumb to stimulate her g-spot.
Enough daydreaming and on to the videos, here's horny blonde BBW Sophie oiling up her chubby curves and then getting down to the business of wanking over at ToysNTits.com:
CLICK HERE TO VISIT SOPHIE AT TOYSNTITS.COM
…but the REALLY BIG NEWS is that Toys N Tits is part of the Plumper Pass program, which gives you unlimited access to six incredible BBW sites – HotSexyPlumpers, BBWDreams, BigBadMamas, ToysNTits, PunishedPlumpers & PlumpCuties – all for the low price of $34.95 (savings of $114.75 over subscribing to all the sites individually!)! And since HotSexyPlumpers & BBWDreams are my all-time favourite big girl sites on the 'net, it's gotta be the best deal to come along in the on-line history of plumpers & BBWs! So take a good look at the new PlumperPass.com family of plumper & BBW websites – I assure you you won't be disappointed:
CLICK HERE TO VISIT PLUMPERPASS.COM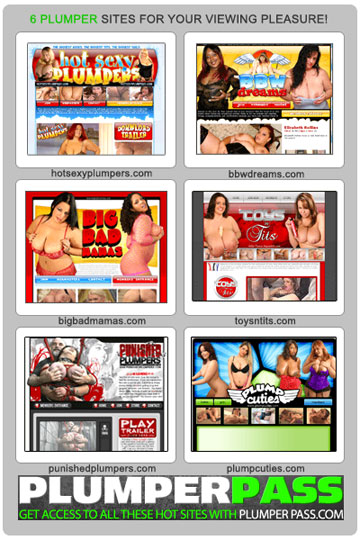 (webmasters)