With "sit on my face and tell me that you love me" by Monty Python now weaving a lyrical labyrinth through my pornographic memory, I've decided to delve into the BBW face sitting fetish as it's a topic I've not previously address here in MyBBWSite. However, it is with some trepidation that I do as the last time I did a face-sitting blog over at MyBoobSite (granted, it was post-coital cunnilingus with pussy creampie eating depicted therein), it exploded into a fucking flamers' firestorm of moral outrage amongst my gentle readers (oh, and feel free to contribute to the argument should you so wish)…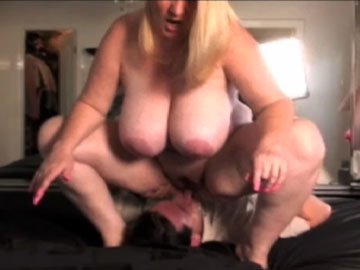 …so, this time, I thought I'd take the cream out of the equation for those lactose intolerant individuals on a cum-free diet and address busty BBW face sitting as foreplay instead in the FFM plumper threesome format featuring voluptuous big boobs BBW babes Rikki Waters & Kelly Shibari as the face sitters and an anonymous bloke as our cunning linguist (although with his face buried in pussy like that, he really doesn't get to say much).
Considering all of the pre-fuck foreplay possibilities in having oral sex with a girl – considering both the giving nature of cunnilingus and being on the greedy receiving of fellatio – I have to say that face sitting cunnilingus is my favourite oral sex activity (although I don't mind getting to enjoy both at once whenever the erotic opportunity for both oral sexes arises as an option). Being the giver in a face-sitting scenario is just so relaxing! 1) You get to lie on your back whilst the well-endowed woman is up on her knees straddling your pussy licking face, 2) unlike conventional cunnilingus with you on top, you don't suffer the neck strain of having to stretch your head forward for licking her cunt and, 3), the girl you're eating out at the Y can bend over to give you a blowjob whilst you taste her vagina juice!
Is a sexual win-win situation in all respects, this face-sitting foreplay. So get your pussy hungry twat tonguing tongues at the ready to enjoy the succulent face-smothering sensuality of said erotic exploit courtesy of these busty voluptuous vertical cunnilingus photos and BBW face sitting videos starring Kelly Shibari & Rikki Waters from BBWDreams.com:
BBW Face-Sitting Photos with Kelly Shibari & Rikki Waters at BBWDreams
BBW Face-Sitting Videos with Kelly Shibari & Rikki Waters at BBWDreams
CLICK HERE TO VISIT ANGELLYNE HART AT BBWDREAMS.COM

(webmasters)