Do you remember the film "The Sentinel" (no, not that Sentinel, this Sentinel) wherein a fashion model moves into an old house occupied on the top floor by a blind priest who's always staring out the window? You know, the one where her weird neighbour invites her to attend his cat Jezebel's birthday party ("Black & white cat, black & white cake!") before she discovers that hidden wall with the "Abandon hope all ye who enter here…" inscription from Dante's Divine Comedy (which is actually somewhat inaccurate since Dante originally wrote, "All hope abandon ye who enter here.") that's meant to mark the entrance to Hell?? You don't?! Bummer.
Anyway, there's a scene in that film wherein the heroine has a flashback in which she catches her father in bed between two rather voluptuous nude women. This particular scene played a not-insignificant role in my then-adolescent fantasies (the film came out in '77), and I could often be found masturbating to wet daydreams of just such a BBW threesome, surrounded to either side by big women with huge tits and plump bellies, totally losing myself wallowing in this fantasy orgy of flesh and fat.
I only mention this because, in my most recent visit to BBWDreams, I found a sexy plumper threesome video that truly lived up to the fantasy and more: It stars Samantha 38G & Desiree Devine and, although I've featured lovely G-cup Sam on my blogs countless times before (the most recent instance being here on MyBoobSite), I don't think I've ever blogged Desiree! Frankly, I cannot comprehend how I've overlooked this busty BBW beauty in the past, as she's got precisely the sort of plump tummy that feeds my flabby belly fetish to gluttonous proportions with overwhelming abdominal cleavage which rivals even that nestled between her huge breasts…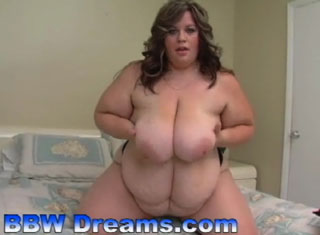 Desiree Devine at BBWDreams.com
…now how would that be for a flabby belly fuck?! Desiree Divine is such a stunning woman anyway, the huge hanging belly cleavage is but a bonus. With a gorgeous face, seductive eyes, amazing breasts and hefty thighs (not to mention a big, beautiful ass that just won't stop), it's nigh on impossible to ignore the whole pulchritudinous package. However, if I ever had the sublime pleasure of sharing a bed with the divine Desiree, I fear that the sheer gravitational pull of her massive belly as a sex object extraordinaire would be too hard to resist and I would find myself in sad neglect of the rest of her correspondingly curvaceous charms. Indeed, I could just wallow in there for days on end, probing the delightful depths of her tummy cleavage with my tongue in search of her navel and then, those fabulous folds of fat flesh now well lubricated from my oral administrations, replace my tongue with my cock and fuck her stomach silly until I filled her belly-button with cum before pulling out to cuddle next to her and massage her now sticky with cum belly with one hand whilst I awaited my carnal constitution to return so I could head back in to that bountiful, beautiful belly for sloppy seconds.
Blimey, I seem to have gone off on one there! Sorry about that…
Back to that dream BBW threesome with Desiree Devine and Samantha 38G. Granted, any threesome with sexy Sam would be a dream come true, but throwing voluptuous vixen Desiree into the mix might just well be a bit too much, causing me to spontaneously combust in an explosion of sexual ecstasy (aka "cumming on contact", but that just seemed a bit too crass for this blog)! Good thing it's just a fantasy, then. Here are Samantha 38G & Desiree Devine sharing some lucky, lucky bastard, lavishing blowjobs upon him, drowning him in a sea of big tits and then at long last fucking him senseless, in this epic 44-minute movie courtesy of BBWDreams.com:
CLICK HERE TO VISIT SAMANTHA 38G & DESIREE DEVINE AT BBWDREAMS.COM
(webmasters)