Plump, busty, beautiful Ava Hadid shines in this scene for Plumper Pass! This brunette BBW looks devilishly delicious, made up like a doll, and showing off her big tits and tattoos in lingerie. First, she performs a smoking hot seduction before your very eyes, in a sexy purple and black ensemble that will make you weak in the knees. She first shows off her huge tits, rolling them in her hands as she strips down. Then she runs her hands all over her thick body, aiming to seduce.
Ava Hadid is pure sex all wrapped up in a plump figure. Her lingerie sinks tightly between her luscious ass cheeks, and she moves her body slow to the music. This is horny perfection, for those of us that love a whole lot of luscious curves on their women. Ava is full of them, including her jiggly belly and thighs barely contained in her pantyhose.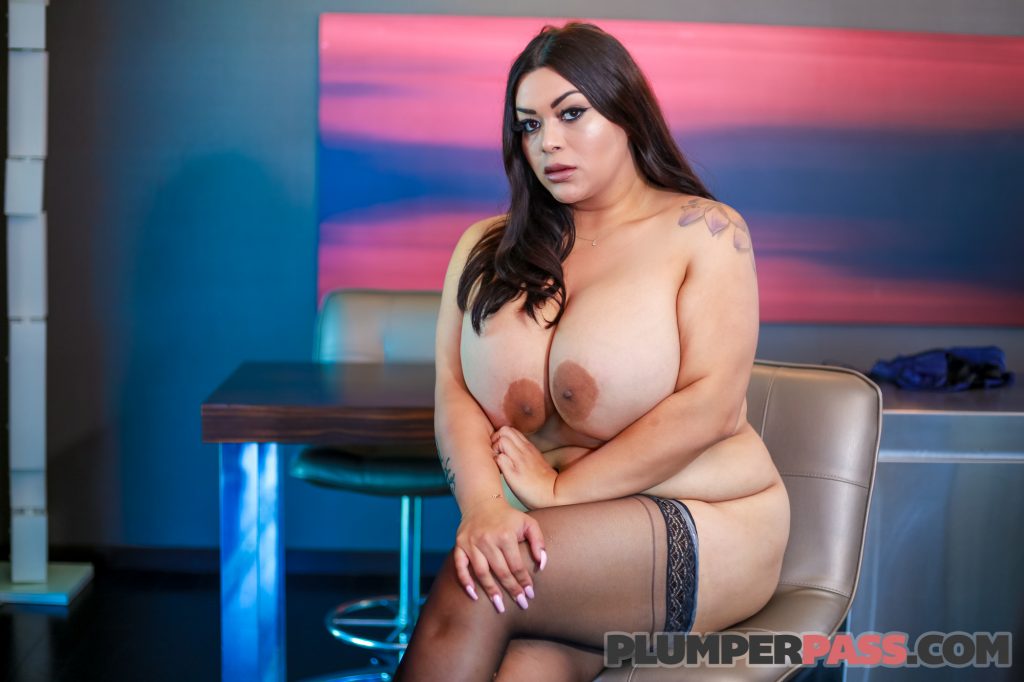 Brunette BBW Strips from Lingerie
Ava Hadid gets fully stripped, tasing you with her belly that she grasps firmly in her hands. Her big tits hand free and this plump brunette is definitely good to go! She slips her fingers into her pussy, spreading wide and fingering herself for the camera. Anyone watching this would happily fuck this beauty and she's getting fully horned up to take on a big hard cock. Ava gets more and more wet, and he's rock hard and ready for that shaved pussy.
She rolls her stockings off, little by little in a tempting tease before the hardcore part of this scene begins. Ava Hadid is plenty warmed up with self-pleasure, and she's aching for more. When Derrick comes in, he immediately gets his mouth all over her body, massaging her big tits and getting her to crave his cock. After some heavy petting, she finally suckles on his cock, stroking it in between dribbles of her own spit. She gets creative with her blowjob skills, using her huge tits to provide extra pleasure as she sucks.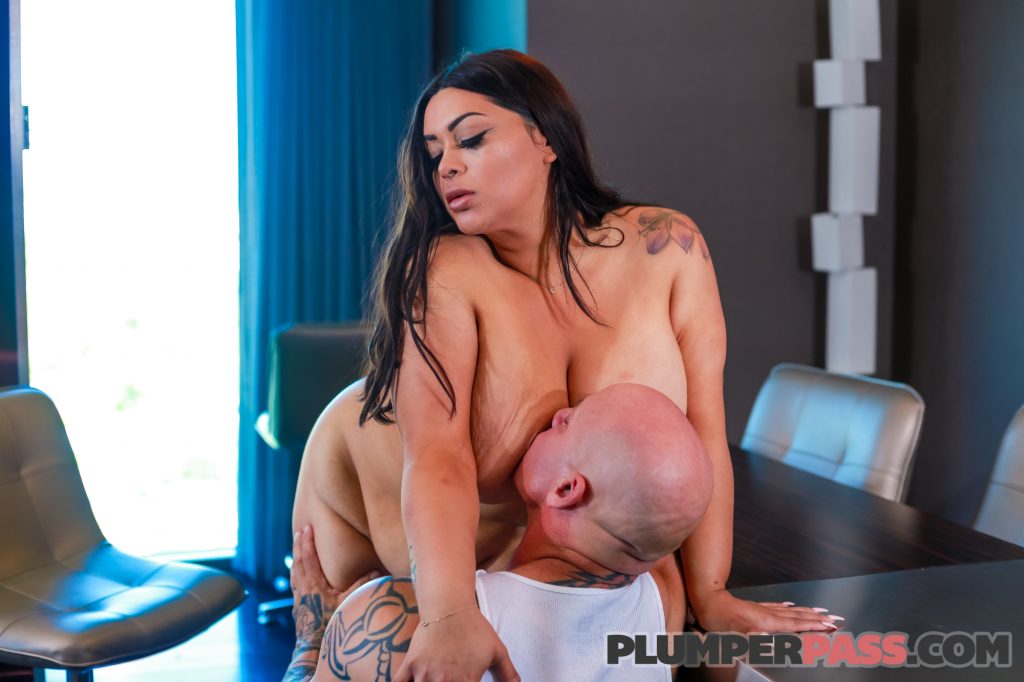 Ava Hadid Brunette BBW Titty Fucking
They start with a cock between her huge tits, and she loves getting tastes of it between thrusts. They've built up enough pure lust, and Ava is ready to ride that huge cock. She gets right on top in reverse cowgirl, crying out with sweet whimpers with every thrust. Her big belly jiggles as she rides and enjoys the deeply penetrating pleasure. With a healthy look at those big tits bouncing, you're definitely going to want more of Ava Hadid!
Between shifting positions, Ava Hadid gets into 69 and shifts into cowgirl so you can see more of that plump body jiggling! This luscious brunette is full of curves and moans, fully loving the deep dicking she's receiving. From here, they move into doggystyle, so you can finally see that pretty face moaning as her ass jiggles! Luscious Ava is getting closer and closer to orgasm, and you'll be bursting with anticipation to see it!
You can see Ava Hadid fuck now, at Plumper Pass!