Although I accept the shallowness and sexism of judging a girl's beauty based upon the physical characteristics of specific anatomical features, I must admit that I, too, fall prey to this pigeonholing behaviour. When it comes to the female anatomy, the first thing I invariably look for is big tits (although, whenever I'm lucky enough to get a girl naked, my attention turns instantly to her pussy as I've got an even bigger obsession for vaginas).
However, one physical feature which falls off my radar is asses. Truth be told, I've never been an ass man and, despite my wife generally finding this the sexiest part of a women (no doubt based upon her belief that she has no ass as well as the fact that I often catch her perving over girls with ample asses with a touch of big butt lust in her eyes when we're out & about), I just don't get it. That said, I'm well aware that there's a big ass fetish thing going on with a lot of guys, especially when it comes to plumpers & BBWs.
And so, I'm doing everything I can to rectify my appreciation of asses in order to better serve this niche obsessed with bum-based plumper porn on my BBW blog – and I dare say I may well have stumbled upon the perfect angle for approaching a girl's ass in terms of bolstering my beatification of big butts. Being the pussy obsessed person that I am, I find the view of the vulva framed by the fleshy diamond formed between a girl's thighs and ass cheeks totally irresistible – an open invitation to her vagina with the bonus of having big butt cheeks against which to bounce whilst fucking doggy-style!
And so, in order to show my appreciation of asses as a portal to the pussy, I'm pleased to present the well-oiled ass of lovely D-cup plumper Jessica Fabulous in hardcore fucking photos & videos from FirstTimeFatties.com:
Busty plumper Jessica Fabulous fucking in hardcore photos from First Time Fatties
Busty plumper Jessica Fabulous fucking in hardcore videos from First Time Fatties
CLICK HERE TO VISIT JESSICA FABULOUS AT FIRSTTIMEFATTIES.COM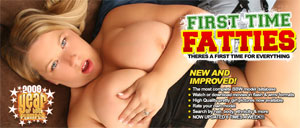 (webmasters)