I don't know about you, but the happiest times in my life have always been when there's a big blonde with big boobs bouncing on top of me…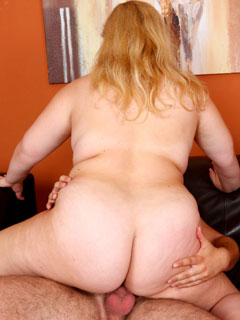 …just the other night, I'd fallen asleep on the love seat whist watching the telly in the living room. I'd only been unconscious a few minutes but, upon awakening, the first sight to greet my weary eyes was, as luck would have it, a big busty blonde with her legs spread wide masturbating on the couch across the room! "You stay there!" she demanded as I watched her wanking hand traverse her pleasingly plump belly to reach the twat target of her pussy, her fingers working furiously at her swollen clit upon their arrival. The sensual squelchy sounds of her wet vagina saturated with pussy juice as she fingered her flaps with abandon, bucking up on her hind legs and leaning forward with her beautiful breasts swaying in rhythmic counterpoint to her masturbatory manipulations like a pretty pair of pendulous pendulums intent upon seducing me with their hypnotic undulations (they certainly got my cock's attention, said erection having poked free of my bathrobe at the very start of this hopelessly horny scene).
With her head thrown back and mouth agape as an indication of approaching orgasm, she suddenly stopped fingering her pussy, planted both legs firmly upon the floor and walked over to where I was not sitting (apart from my throbbing dick which was standing at full attention at the voluptuous vision of full frontal nudity standing naked before me). She parted my bathrobe and mounted the couch on her knees, legs spread around mine as my genital gaze met her crotch to behold her soaked pussy dripping for sex. I slouched down the couch sliding just far enough to put my penis in line with her vagina for penetration (should that be indeed what she had in mind). As she eased down, I could feel my erect cock parting her moist labia lips as their immense wetness lubricated my swollen shaft for pussy penetration. I felt my penis enter her gaping vagina with ease, after which she commenced bouncing atop me with my cock concealed in the coital caress of her cunt and my face smothered in tit flesh as she fucked me silly.
Having already brought herself off to the bleeding edge of orgasm through masturbation earlier, she came within mere moments as I felt the intense vaginal contractions of her pelvic floor muscles crushing my cock with every orgasmic clench of her cumming cunt. Honestly, her climax lasted at least twice as long as the fuck (am sooo jealous of the female orgasm as it lasts so much longer than its male counterpart) and, as I felt her pulsing pussy come to rest around my penis, she suddenly dismounted me, said, "That is all" in her best Jean Luc Piccard voice and returned to her previous perch on the other couch. Alas, my own cumshot would have to wait for another day. *sigh*
So, upon making my daily trek over to the Plumper Pass family of BBW porn sites to see what's new, I was pleased to find that there's a new pair of big tits in town over at BBW Dreams with said busty blonde breasts being the pendulous property of 38DDD Angellyne Hart (um, she's the stunning plump blonde thing we see from behind toward the top of this blog entry in a sex scene reminiscent of my experience on the couch the other night (oh, and btw, 'twas my wife who was the wanking blonde in the masturbatory memory of mammaries mentioned above (lest ye get the mistaken impression that my house is some sort of refuge for stray blondes with big tits (hmmm, wonder if I could set that up?))))!
Anyway, busty blonde BBW Angellyne Hart gets up to far more on the couch than a quick wank and a fuck, although it was the above photo of her cowgirl style fucking from behind that triggered my pornographic memory, but it appears her couch comes equipped with a permanent penis pal intent on fondling her big breasts and licking out her pussy in a rare standing cunnilingus shot! And, seeing that his convenient cock is but a blowjob away, Angellyne takes full advantage of the situation by taking his male member well in hand and in mouth to prepare his penis for pussy penetration! And penetrate her he does in a vast variety of sexual positions before cumming to a climax from a coup de gras titfuck between her big breasts and unleashing a good load of cum on her tits in these couch fuck photos & videos all "cumming" with loving courtesy from BBWDreams.com:
Angellyne Hart photos from BBWDreams
Angellyne Hart videos from BBWDreams
CLICK HERE TO VISIT ANGELLYNE HART AT BBWDREAMS.COM

(webmasters)