I've known a lot of massage therapists in my time (and, no, I'm not talking about the decidedly-erotic sorts who work in "massage parlors"). Through these, I've learned that one of the chief aims of therapeutic massage is relaxation – essentially stress reduction through muscle de-armoring. But what happens when the pent up stress is sexual in nature? Sadly, LMTs (Licensed Massage Therapists) are not permitted to deal with what may well be the most intense armoring that any of us will experience in our lives. As far as genital contact is concerned, they're required to adhere to a strict "hands-off" policy.
[begin toungue-in-cheek rant]
Personally, I find this rather short-sighted, as the act of receiving a massage can, in itself, stimulate sexual arousal for some. Is this not merely a transfer of incumbent stress to another part of the body (in this case, the sex organs)? Wouldn't it be nice if your masseuse could relieve that tension as well?? Until they correct this oversight, I fear that many will continue to patronize unlicensed back-street practitioners or turn to unskilled friends to receive such special and much-needed full-service treatment for a truly holistic experience. Then again, if we instead choose to accept this limitation, will not our genitalia eventually explode as a consequence of the ever-accumulating stress?! We can but watch and wonder…
…or, we could start a movement! Let's call it "Begin Legalization of Genital Stimulus" (or "BLoGS", for short). That way, we can lobby the powers that be to lift the Puritanical ban on genital contact for massage therapists (to be conducted in a purely platonic, asexual manner, of course, with a strict focus upon the legitimate therapeutic benefits of such). Now, I guess, it's simply a matter of publicizing our noble cause! However, since the movement was conceived just minutes ago, I've researched the statistics on-line to find that there are already over 80.2 million dedicated "bloggers" amongst our ranks and Google reports approximately 796,000,000 references to our fledgling organization already! Isn't the internet wonderful?!
[/end toungue-in-cheek rant]
What brought this all to mind, you ask (or perhaps not)? Well, it was this pleasant little video I encountered on PlumperPass.com! In it, sexy Samantha 38G and her friend, 38DD Eden, exchange a friendly, mutual massages. Not content with stopping at the statutory limitations – what with all of the big breast fondling and caressing of voluptuous flesh going on – they progress onward to the next natural but hitherto shunned therapeutic outpost; cunnilingus!
Now, I'm not suggesting that the tongue is an appropriate tool for administering massage, nor do I condone the exchange of bodily fluids in the course of treatment (I wonder if anyone makes tongue condoms?), but I must admit that it does make for a most evocative and sensual close to the session. Such are the potential pleasures of sharing an intimate massage with a good friend, I suppose, as so deliciously demonstrated by Sam & Eden at PlumperPass.com:
CLICK HERE TO VISIT SAM & EDEN AT PLUMPERPASS.COM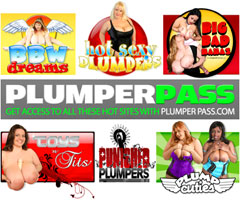 (webmasters)