If you love thick bodies and redhead BBW babes, you're going to love getting a taste of Amerie Thomas! This plumper is aching to go out, and she's getting ready to do so in this scene for BBWLand. Amerie's man isn't so excited about going out. He has been working hard all day and really just wants to stay home with her. He reasons with her, and she seems easily convinced that staying in really is the best decision for them.
Amerie Thomas begins to shower to get ready, so she can get totally dolled up. Once her man finally convinces her, she already has her tits in her face. He's more than happy to provide her some dick, but going out? That's just not on the table anymore! The redhead BBW lets her man get his arms all around her, and suddenly she isn't all that interested in getting ready. Before long, this plumper has a hot cock throbbing for her thick body and she's more than happy to take it.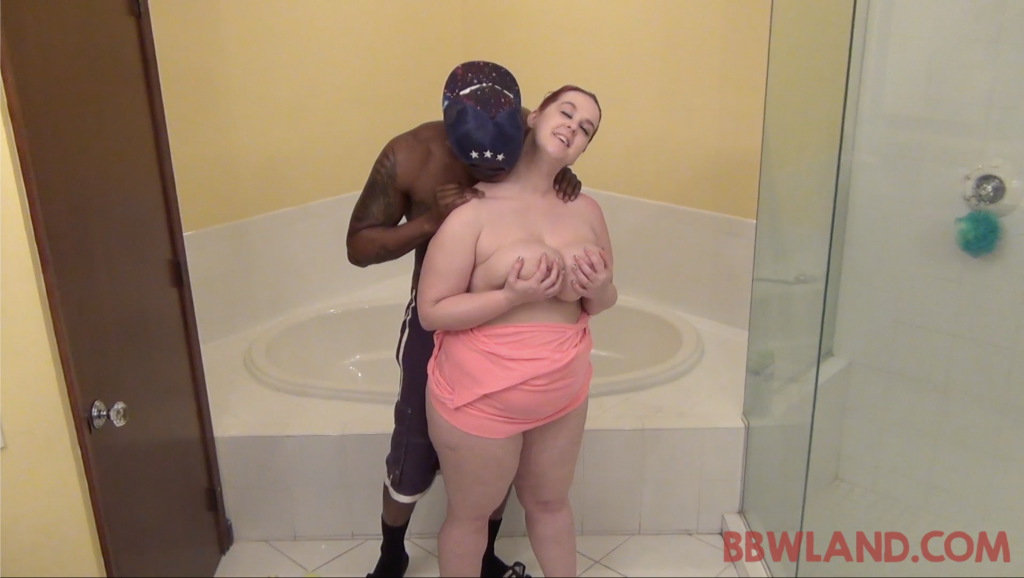 Redhead BBW Gets Hardcore in the Steamy Hot Shower
Amerie Thomas is smoking hot, with nice wide hips, smooth skin, big tits and a round belly. She covers up for just the beginning of the scene, but you'll love her even more when she drops her clothes. Watching her thighs jiggle when she walks over to her man is the first glimpse you have of the redhead BBW, and soon you'll be seeing a lot more of that plump body.
This redhead BBW seems easily persuaded as her man kisses all over her neck. He starts grabbing Amerie Thomas's big tits, and smacking her creamy, sweet ass. He quickly gets this half naked plumper undresssed, as he slips off his own shorts. She submissively gets down on her knees, bobbing her head up and down his cock immediately. She really starts to go to town on that big black cock. Now she's totally forgotten about those plans!
Amerie Thomas Hardcore Plumper Gives Blowjob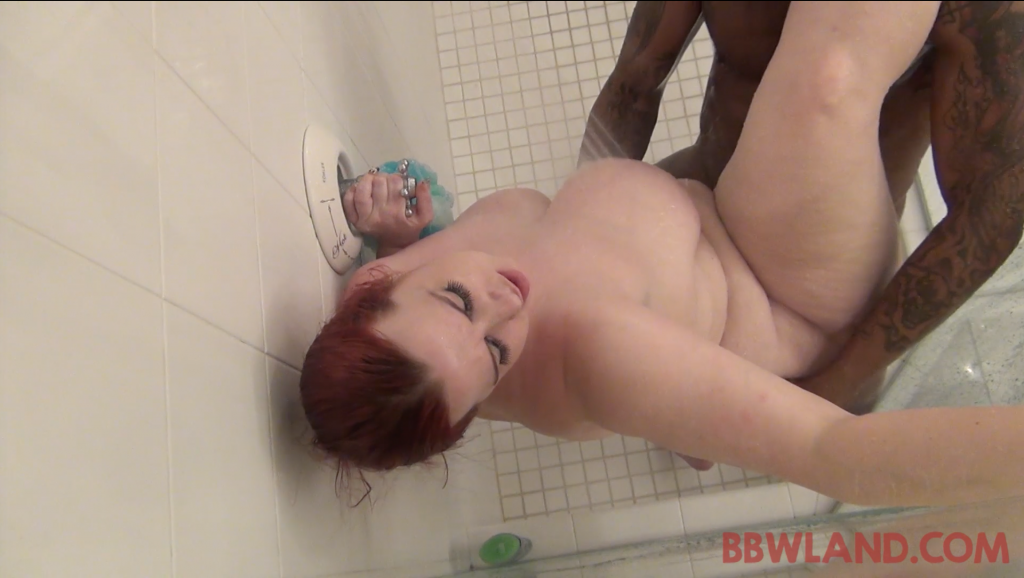 Sexy Amerie Thomas knows how to blow, but she really craves more now! The redhead BBW suggests they get into the shower, and once she steps in, the pair wastes no time. When she starts blowing him while the water flows, gagging and slobbering as he drives his big black cock into her face. She works the balls, she takes it hard! She's getting much hornier and needs her fat pussy filled up with cock.
Amerie Thomas is very submissive, letting her man lead her around. He pushes her fat ass against the shower door, gobbling up that pussy. He makes sure to return the "good head" favor, making her moan before he pushes her against the shower wall. Her belly bounces as he thrusts inside of her, and she's breathless! She loves their bodies sliding together, moaning and enjoying getting her pretty shaved cunt filled with a massive black cock!
Watch Redhead BBW Amerie Thomas get railed in the shower now at BBWLand!