From time to time, you come across one perfect photo that epitomises in an instant why you're a chubby chaser. Sometimes, it can even be captured in just a single frame of video, as was indeed the case when I grabbed the following vidcap from the latest gallery I found over at SweetDevilzCandy…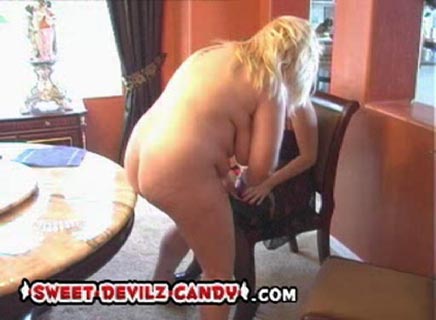 …that has got to be the absolute pinnacle of busty blonde plumper perfection from behind! I just want to sneak up on Candy, rubbing my erogenous regions firmly up and down against her ample ass whilst reaching one hand around to cuddle her plump belly and fondle her big tits with the other.
Ah, but to stop there would be neglectful of the rest of this fine video, wouldn't it? Alas, let me flesh out the scene a bit: Basically, we find a female friend of Candy's with a dildo on her knee (hmmm, I wonder if she "cums" from Alabama?). There's plenty of foreplay, to be sure, but it's not terribly long before we find Candy humping her leg with abandon.
The oddest bit is when the girlfriend raises her knee up to her mouth so she can suck the strap-on (eh, perhaps not so strange, as it's just been bathed in Candy's pussy juices after all). The sensual snog the two of them share is a sight to behold as well; with Candy, still perched upon her girlfriend's lap, leaning back to lock lips with her lesbian lover (resulting in yet another tantalising tummy shot!).
Yes, like Devyn Devine, it seems that our Sweet Devilz Candy has really been getting into the girls as of late (or, more accurately in this case, the girls have been getting into her!). I really don't mind, though, as it merely means more opportunities to see this big, beautiful blonde in action. Here she is in her latest video gallery from SweetDevilzCandy.com:
CLICK HERE TO VISIT SWEET DEVILZ CANDY AT SWEETDEVILZCANDY.COM

(webmasters)