See Kimmie Kaboom at BBWcon July 10th-12th 2015 and Always on her Kimmie Kaboom Page at PlumperPass.com
See More of Kimmie Kaboom in Hardcore XXX Action at Plumperpass.com
Don't you just hate the man-whore that is Asante Stone?
He gets to fuck all our favorite Big Beautiful Women.
He gets to put his bald head between big, bountiful boobs.
He fondles fat.
He gets titty-fucked and cums on those BBW breasts and buttocks. The bastard. 😆
Sweet as candyfloss, Cotton Candi, who we have not seen here since last year, is all set for a session with that (BBC) big black cock.
African American Cotton is a huge honey weighing 269 lbs (19st 3lbs / 122kgs), she measures up at a gloriously gargantuan 58-40-56. She wears a mammoth 46 M-cup bra.
Far too big to be called chubby or plump, Cotton Candi is a SSBBW (Super Sized Big Beautiful Woman).
Her wonderful, wobbly, weight is distributed perfectly between her butt, belly and boobs. Her thighs and upper arms juggle with every cellulite covered shudder.
Here the divine Cotton is fucking and sucking, not-quite-gagging on hot, hard horn. Taking her time to look into our eyes (via the camera) with lustful longing.
That Brobdingnagian body bonking, until all her blubber is swingingly, sloshingly satisfied.
There is another video on MyBoobSite, HERE.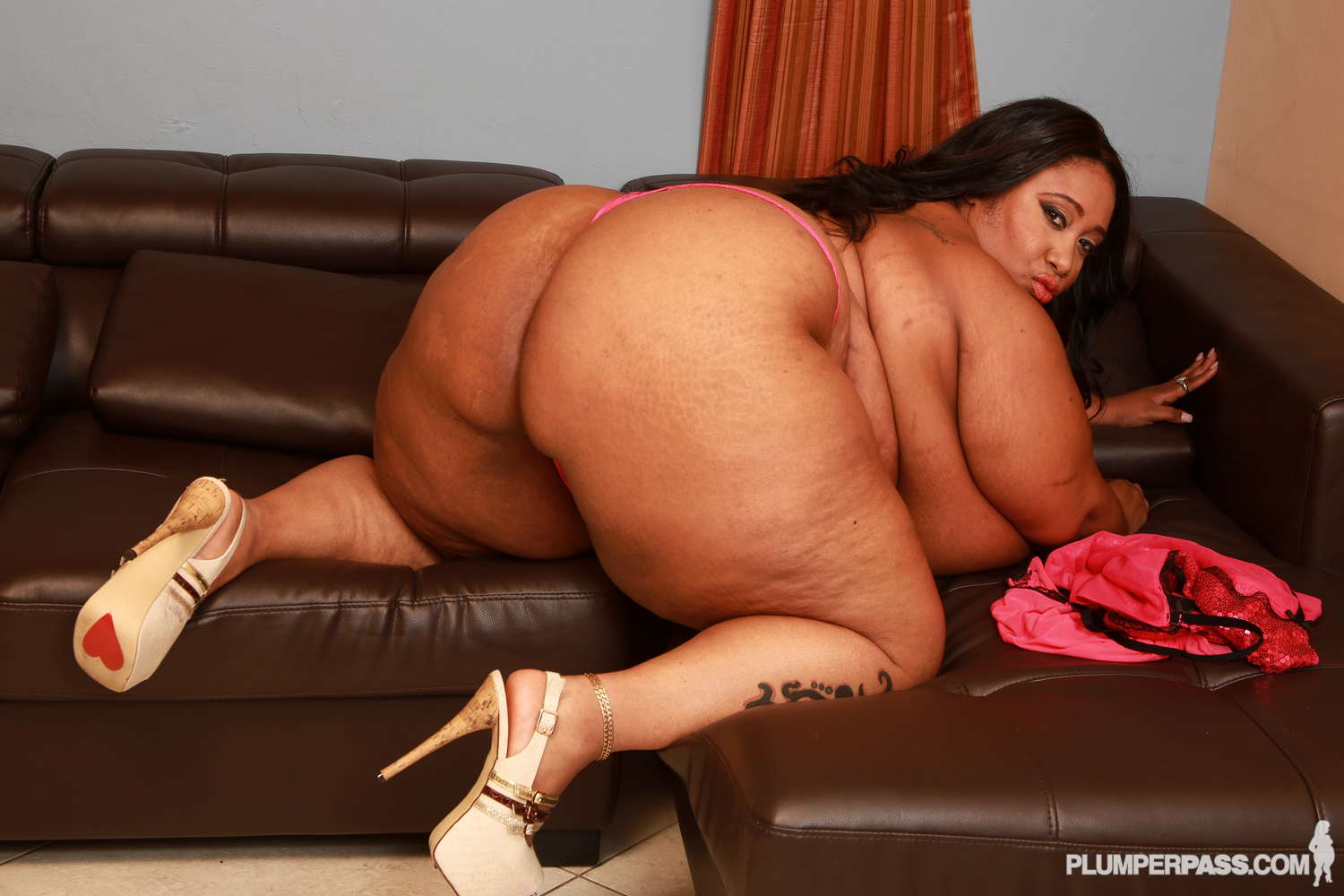 Click here to visit Cotton Candi at PlumperPass.com

See Cotton Candi and other hots BBWS on WebCam at Plumperpasslive.com
One of our favourites, Samantha38G (AKA Sam38G, Samantha Anderson) is a busy lady and has a membership at a club.
Not a health and fitness club, but a swingers club – which is, surely, just as fit and healthy as the aforementioned – and she is taking some time out of her full schedule with a visit.
Plopping her 219lb (15st 9lb / 100kg) sumptious body onto the bed, all her curves and cuddly bits are in need of some working out… sexually.
Making with the masturbation, the finger fucking and clit caressing, that 58-34-48 body needs something else. Something more.
Thankfully, there is a room-service menu available, and sexy Sam wants a sex-toy. A vibrator. A dildo. Something to fill her tempting twat…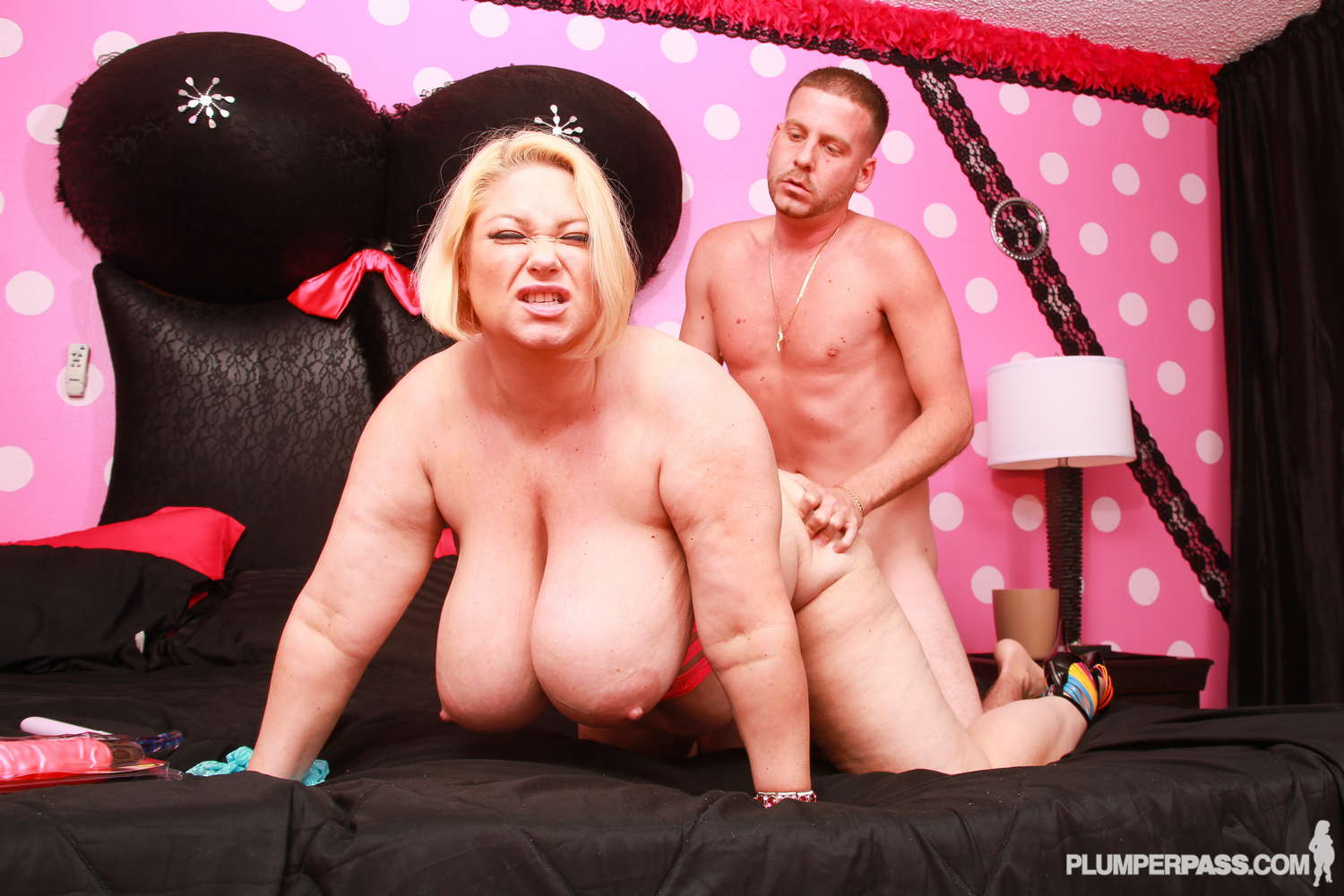 Of course, the dildo is no replacement for a good, hard cock. Sam soon has her hands and mouth around the delivery dudes' dick and he cannot wait to help her scream with delight as she cums and cums. Her beautiful, bounteous body, bouncing boobs and belly giving us all an orgasmic treat.
Click here to visit Samantha38G at PlumperPass.com

See Samantha 38G and other hot BBWS on WebCam at Plumperpasslive.com