There's only one thing that could be better than a busty blonde big beautiful woman, and that's TWO big boobed blonde BBWs! It's obvious that our 38G Samantha Anderson feels the same as I do, too, as she's found a lovely new playmate who shares her cup size!! In fact, she even gets a bit flustered during the filming, mixing up her words: "It is gettin' hot in here…are you huys got?" Heh. Yes, Sam, we huys are hetting got – and a little gorny, too! ;~P
[Pay no attention to me, Sam. I only poke fun at you because I love you. Btw, thanks sooo much for the lovely photo you took for me over the weekend!]
All kidding aside, it's a great video: It starts out with the girls trying on various bras that are obviously too small for their massive G-cup boobs before the two end up going tit-to-tit. I just love the sight two voluptuous women playing on top of each other. It always seems to make me rather hungry for a delicious "plumper sandwich"…with me as the meat, of course! ;~) I just wonder where I'd fit in, with all of that bountiful tit-flesh pressed so firmly between them.
Mmmm, I seem to be heading off into dreamland now, so enjoy these clips whilst I head over to Ms. Anderson's "Sexy Samantha 38G" site to watch the full movie…
…but, oh no, it doesn't stop with the boob play! I guess most girls crave a bit of cock, especially after a horny video shoot (my wife,
Vix
, included). So, after the two are done fondling and suckling each other's breasts, Samantha takes the camera whilst her partner enjoys an incredible deep cleavage titfuck. We even get to
see Sam lovingly slide a condom
over her partner's cock, preparing him for a glorious big boobs blowjob / handjob from her voluptuous new mate:
CLICK HERE TO VISIT SAM'S WEBSITE!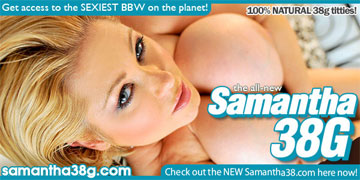 (webmasters)